ANALISIS KANDUNGAN LEMAK BABI DALAM PRODUK PANGAN DI PADANGSIDIMPUAN SECARA KUALITATIF DENGAN MENGGUNAKAN GAS KROMATOGRAFI ( GC)
Abstract
Abstract
Halal food issue is an urgent problem in the community . One of the factors causing this issue , among others, is the lack of attention and supervision from the government to the manufacturer who is engaged in processing and food supply. The problems of this research is What food product has been contaminated Padangsidimpuan circulating in pig fat ? While the purpose of this study to determine what food products contain fat Padangsidimpuan circulating in pigs. Determination of lard is done qualitatively using Gas Chromatography ( GC). The products analyzed are products suspected to contain lard because of the issues or people would doubt the outstanding products . Of some food products analyzed are shredded cake , meatballs , burgers risol and proved that the product does not contain lard indicated that the physico-chemical testing , GC - MS on a pig fat / pork negative . shreddedcake, risol and derived from chicken fat burgers , meatballs while derived from beef tallow . News is circulating in the community could be an invention of people because of trade competition or of outstanding products is still dominated by Chinese or non-Muslims and outstanding products are also no halal label . Halal food is not only seen from the absence of lard / derivatives but also seen where obtained / source , process or processing .
Kata Kunci: Lard, Gas Chromatography(GC), halal
References
DAFTAR PUSTAKA
Al Ghazali, Imam, Mutiara Ihya Ulumuddin, Bandung:PT. Mizan Publika, 2008.
Apriyantono, A, Sistem Sertifikasi Halal di Indonesia, Seminar Pangan, Teknologi Pangan dan Gizi, Fakultas Teknologi Pertanian, IPB.
David, F and P. Sandra, Column Selection for Analysis of Fatty Acid Methyl Esters, Research Institute For Chromatography, USA, Agilent Technology, 2005.
LPPOM-MUI, Awas Abon Babi, Jurnal LPPOM MUI : Halal, No.18/III/November-Desember 1997
Mariatni, Dwi, Upaya Mendeteksi daging Babi Dalam Makanan Jadi Melalui Uji DNA, Bogor: IPB, 2000.
Mudhafier, Fadhlan, Menguak Keharaman Makanan, Jakarta: Zakia Press, 2004.
Mayasari, Nura , Memilih Makanan Halal, Jakarta: Qultum Media, 2007.
Nasiruddin, Muhammad, Fakta Ilmiah Mengapa Daging babi Haram di Konsumsi(http://m-nasirudin.blogspot.com/2012/12/fakta-ilmiah-mengapa-daging-babi-haram.html), diakses tanggal 16 April 2013, pukul 09.35WIB.
Nevin, K.G. and Rajamohan, T., 2008, Influence of Virgin Coconut Oil on Blood Coagulation Factors, Lipid Levels and LDL Oxidation in Cholesterol Fed Spraguee Dawley Rats, e-SPEN, the European e-Journal of Clinical Nutrition and Metabolism, 3:e1-e8
Nurcholis,Abu Riyadl Nurcholis,Logo Halal Pada Kemasan Produk Makanan (http://www.hang106.or.id/berita-133-logo-halal-pada-kemasan-produk-makanan.html), diakses tanggal 17 April 2013, pukul 22.14 WIB.
Pavia, et.al., Introduction to Organic Laboratory Techniques (4th Ed.), Washington: Thomson Brook, 2006).
Qardhawi, Yusuf .Halal Haram dalam Islam , Surakarta: Era Intermedia, 2000.
Reni Chandra, Keamanan Pangan, Badan POM RI: Jakarta, 2007, Buletin BPOM RI, Volume 11/ Tahun VI/2007.
Saeful Anwar, Makanan dan Minuman Dalam Islam, Bandung: UPI, 2010.
Sandra Hermanton, dkk. Profil, dan Karakteristik Lemak Hewani (Ayam, Sapi dan Babi) Hasil Analisa FTIR dan GCMS, Jakarta: Jurnal Sains dan Teknologi., 2010.
Sardjono, Komposisi Asam Lemak Total dari Otot Dan Campuran Lemak Dan Otot Ayam, Babi, Kambing, Kerbau dan Sapi, Bogor: IPB, 1999.
Shinohara, H. et.al., 2005, Effect of Randomly Interesterified Triacylglycerols Coanting Medium and Long Chain Fatty Acids on Energy Expenditure and Hepatic Fatty Acid Metabolism in Rats,Biosci. Biotechnol. Biochem, 69(10):1811-1818.
Susanto, T., Mencermati Label pada Produk Makanan, Jakarta: Suara Hidayatullah, 1995, 02/VII/ Juni 1995
Wijaya, Yoga Permana, 2009, Fakta Ilmiah tentang Keharaman Babi, (http://yogapw.wordpress.com), diakses pada tanggal 25 April 2011 pukul 09.00 WIB.
DOI:
https://doi.org/10.24952/tazkir.v9i2.99
Refbacks
There are currently no refbacks.
Copyright (c) 2015 TAZKIR
---

This work is licensed under a Creative Commons Attribution-ShareAlike 4.0 International License.
Editorial Office:
Institute for Research and Community Services; State Institute for Islamic Studies Padangsidimpuan.
Jl. T. Rizal Nurdin Km. 4,5 Sihitang 22733 Padangsidimpuan, North Sumatera, Indonesian.
Phone: (+62) 634  22080  Faximili: (+62) 634 24022 e-mail: lp2miain.padangsidimpuan@gmail.com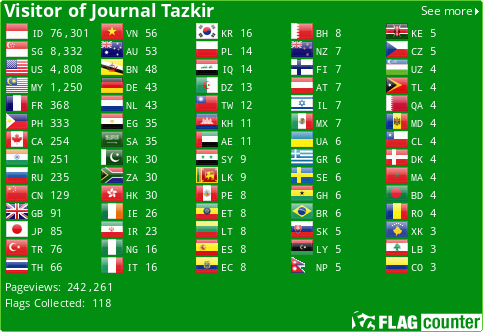 View My Stats