PERAN MAJELIS TAKLIM DALAM MEMBINA KELUARGA SAKINAH MASYARAKAT MUSLIM DI KOTA PADANGSIDIMPUAN
Abstract
Abstract
Method taklim conducted through religious sermons, congregational worship activities, events wird, remembrance and prayer, the gathering / million-million cooperation and activities to help each other. Overall this method is very effective in building a happy family on the Muslim community in Padangsidimpuan. In other words, the methods applied in Padangsidimpuan taklim is significant in the lives of Muslim families to build Vegas, mawaddah wa Rahmah. Construction sankinah Family members taklim, measured by indicators of adherence to family members in their ritual daily prayers, polite attitude of family members, the ability to meet the material needs of the family members, the creation of good communication among family members and active members of the family in terms of religious and social groups in society, both positively and significantly improve the condition of happy family on the Muslim community in Padangsidimpuan. Based on statistical Product moment correlation was obtained between the two variables point at 0.764. This means that the relationship between the two variables is strong. Koefien point correlation also showed a positive direction. That is, when the assembly gathering in building harmonious family, the increased stress exercise, it would positively impact on the quality of the construction of harmonious family in the community in Padangsidimpuan
Kata Kunci : Majelis taklim, keluarga sakinah.
References
DAFTAR PUSTAKA
Abdullah, Wawasan Dakwah. Medan: IAIN Press, 2002.
Amsyari Fuad, Islam Kaffah : Tantangan Sosial dan Aplikasinya di Indonesia. Jakarta: Gema Insani Press, 1995.
An-Nahlawi Abdurrahman, Pendidikan Islam di Rumah, Sekolah dan Masyarakat, terjemahan Shihabuddin. Jakarta: Gema Insani Press, 1996.
Arifin, M. Kapita selekta Pemndidikan (Islam dan Umum ). Jakarta: Bumi Aksara, 1993.
Daghfaq Yusuf Abdullah, Wanita Bersiaplah ke Rumah Tangga. Jakarta: Gema Insani Press, 1992.
Departemen Agama RI., Al-Qur'an dan Terjemahannya. Jakarta: Yayasan Penyelenggara Kitab Suci Al-Qur'an, 1984/1985.
Departemen Pendidikan dan kebudayaan RI, Kamus Besar Bahasa Indonesia. Jakarta: Balai Pustaka, 1995.
Gazalba Sidi, Islam dan Perubahan Sosiobudaya: Kajian Islam tentang Perubahan Masyarakat. Jakarta: Pustaka Alhusna, 1983.
Glasse, Cyril Ensiklopedi Islam (Ringkas), terjemahan Chugron A. Mas'adi. Jakarta: Raja Grapindo Persada, 1999.
Gulo W., metolodogi penelitian. Jakarta: Gramedia widiasarana,2002.
Haekal, Muhammad Husain Sejarah Hidup Muhammad , Jakarta : Litera Antarnusa, 1990.
Harahap Syahrin, " Membina Keluarga Sakinah Di Dunia Modern", Makalah disampaikan Pada SeminarEksistensi Keluarga Kecil Sejahtera, Dalam Pengentasan Kemiskinan Memasuki Psca Modrn Menjelang Abad XXI, Gunung Tua Kec. Padang Bolak tanggal 5 Februari 1999.
Harahap Syahrin, Islam konsep dasn Implementasi Permberdayaan. Yogyakarta: Tiara Wacana, 1999.
Huda Nurul,. et. Al., Pedoman majelis taklim. Jakarta: Proyelk Penerangan Bimbingan Dakwah Khotbah Islam Pusat, 1984.
Kordinasi Dakwah Islam, Panduan Majelis Tak'lim. Jakarta:ttp,1982.
Ma'arif Ahmad Syafi'I, Membumikan Islam. Yogyakarta: Pustaka Pelajar, 1995.
Mahmud, Ali Abdul Halim Dakwah Fardiyah: Metode Membentuk Pribadi Muslim, terjemahan As'ad Yasin. Jakarta: Gema Insani Press, 1995.
Munawwar Ahwad Warson, Al-Munawwar Kamus Indonesia. Jakarta: Balai Pustaka, 1988.
Qutb Sayid, Fiqhud Dakwah. Beirut: Muassasatur Risalah, 1970.
Rais M. Amien, Cakrawala Islam Antara Cita dan Fakta. Bandung: Mizan, 1989.
Saleh, Abd. Rosyad Manajemen Dakwah Islam. Jakarta: Bina Ilmu, 1993.
Sugiyono, Metode Penelitian Administrasi. Bandung: Alfabeta, 2003
Syani Abdul, Sosiologi dan Perubahan Masyarakat. Jakarta: Pustaka Jaya, 1995.
Widjaya, A.W (ed), Manusia Indonesia, Individu, Keluarga dan Masyarakat. Jakarta: Akademika Pressindo, 1986.
Yatim Badri, Sejarah Peradaban Islam, Jakarta: Gaja Grafindo Persada, 1997.
DOI:
https://doi.org/10.24952/tazkir.v9i1.96
Refbacks
There are currently no refbacks.
Copyright (c) 2015 TAZKIR
---

This work is licensed under a Creative Commons Attribution-ShareAlike 4.0 International License.
Editorial Office:
Institute for Research and Community Services; State Institute for Islamic Studies Padangsidimpuan.
Jl. T. Rizal Nurdin Km. 4,5 Sihitang 22733 Padangsidimpuan, North Sumatera, Indonesian.
Phone: (+62) 634  22080  Faximili: (+62) 634 24022 e-mail: lp2miain.padangsidimpuan@gmail.com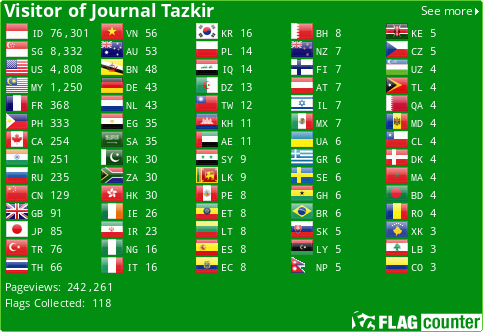 View My Stats