KECERDASAN EMOSI DAN PENYESUAIAN DIRI (Studi Aplikasi Kode Etik Mahasiswa di STAIN Padangsidimpuan)
Abstract
Abstract
Background of this research is there some infraction in code of ethics which is done by students collage. It is about akhlaqulkarimahand is also about how to good wear as like as Islam that wear of students collage of Institute for Islamic Studies Padangsidimpuan. This case is a decadence of moral in circle of students collage. The purpose of this research is to know how the emotional intelligence and how students collage for adapting. This research was done in code of ethic application at students' collage of IAIN. Then, to know the resistivity factor of students collage in applying of code of ethic, and how is to adapt as students collage of IAIN. Furthermore, this research is to know the effort that was done of deputy of IAIN Padangsidimpuan in motivating students collage for doing the code of ethic IAIN Padangsidimpuan. Based on the data analysis, the researcher used descriptive qualitative method. This research was done to observe phenomena with scientific logic. Based on method, this research was phenomenological descriptive. It means that, this research was also to describe the true condition that had happened in field as natural. The result of this research showed that emotional intelligence and students adaptation was related with code of ethic IAIN Padangsidimpuan which was less. Moreover, still found some infraction in code of ethic. For this case, guidance and construction is needed for attitude of students collage in IAIN Padangsidimpuan.
Kata Kunci: Emotional Intelligence, Adaptation, Code of Ethic.
References
DAFTAR PUSTAKA
Alex, Sobur. Psikologi Umum. Bandung: CV. Pustaka Setia. 2009
Ali, M. & Asrori, M. Psikologi remaja perkembangan peserta didik. Jakarta:PT. BumiAksara: 2005
Ary Ginanjar Gustian, Rahasia Sukses Membangun Kecerdasan Emosional dan Spiritual, Jakarta: Arga, 2001,
Calhoun, James F.,and Joan Ross Acocela. Pschology of Adjustment and Human Relationship, Third Edition, NewYork: McGraw-Hill Publishing Company.1990
Fatimah,N. Psikologi Perkembangan. Bandung: Pusaka Setia, 2005
Gerungan,W.A. Psikologi Sosial. Bandung: PT.Eresco, 1981
Goleman, Daniel. Emotional Inttelligence, terj. Hermaya .Jakarta: Gramedia Pustaka Utama, 1998
.Kecerdasan Emosional: Mengapa EI lebih penting dari IQ. Jakarta: Gramedia Pustaka Utama, 2006
Hamim Thohari dan Ika Rais. Tumbuh Kembang: Kecerdasan Emosi Nabi. Jakarta: Pustaka Inti, 2003
Hariyadi, Sugeng dkk. Perkembangan Peserta Didik. Semarang: IKIP Semarang Press,Cetakan ke-3, 2000.
Hariydi Sugeng, dkk. Perkembangan Peserta Didik. Semarang: IKIP Semarang Pres.Cetakan Ketriga. 2003 http://id.shvoong.com/social-sciences/psychology/2183477-faktor-faktor-yang-mempengaruhi-penyesuaian/#ixzz2QDlc8yJp
Hurlock, Elizabeth.,Psikologi Perkembangan. Tata McGraw Hill, New York, New Delhi, 1978
JP.Chaplin. Kamus Lengkap Psikologi.Jakarta: Rajawali Pers,. 2000
Kartono, Kartini. Hygiene Mental. Bandung: Mandar Maju. 200
Lexy J. Moleong, Metodologi Penelitian Kualitatif, Bandung: Remaja Rosdakarya, 2000.
Mahmud, M.Dimyati. Psikologi Suatu Pengantar, Yogyakarta: Edisi 1 BPFE, 1990
Herry Zen Pieter, Lumonggo, Pengantar Psikologi dalam Keperawatan. Jakarta: Prenada Media Group,
Samsuddin, Pulungan, Belajar Berbasis Kecerdasan Emosional: Membangun Paradigma Mangasuh Anak dalam Keluarga Muslim. Padang: Rios Cipta, 2013
Schneiders, A Personal Adjustment and Mental Health.New York: Rinehart & Winston, 1964
Segal, Jeane. Melejitkan Kepekaan Emosional. Bandung: Mizan Media Utama, 2000
Simon, Sidney., Howe, Leland W., & Kirchenbaum, Howard.Values Clarification: A handbook of Practical Strategies for Teachers and Students. New York: Hart Publishing Company,Inc.1978
Singgih, Gunarsa. Psikologi Perkembangan, Jakarta: BPK Gunung mulia, 1981
Standar Mutu Mahasiswa STAIN Padangsidimpuan.2012
Sunarto & Hartono, B. Agung. Perkembangan peserta didik. Jakarta: Rineka Cipta Wahjosumidjo.1995
Yusuf, S. Psikologi Perkembangan Anak dan Remaja. Bandung: PP. Remaja Rosdakarya, 2005
DOI:
https://doi.org/10.24952/tazkir.v9i2.103
Refbacks
There are currently no refbacks.
Copyright (c) 2015 TAZKIR
---

This work is licensed under a Creative Commons Attribution-ShareAlike 4.0 International License.
Editorial Office:
Institute for Research and Community Services; State Institute for Islamic Studies Padangsidimpuan.
Jl. T. Rizal Nurdin Km. 4,5 Sihitang 22733 Padangsidimpuan, North Sumatera, Indonesian.
Phone: (+62) 634  22080  Faximili: (+62) 634 24022 e-mail: lp2miain.padangsidimpuan@gmail.com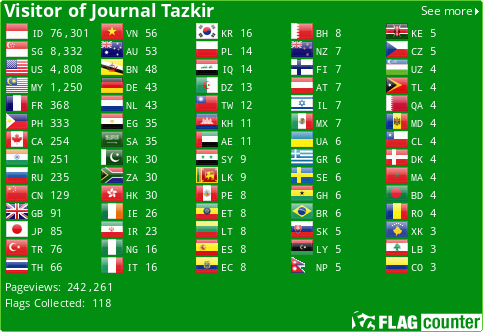 View My Stats