KUALITAS HADIS TENTANG TAWAF IFADAH BAGI PEREMPUAN HAID (Studi Kritik Sanad)
Abstract
Abstract
Hadith is the second source of law in Islam although its codification accomplished in the year 100 AH, which at that time there has been a lot going on hadith forgeries. Likewise Hadith tawaf Ifadah for women menstruation should be investigated because hadith ahad and its quality has not been thoroughly studied by the perfect rules. This study indicates that the sanad of hadith tawaf Ifadah of women's menstruation is sahih lighairi.
Kata kunci : Kulitas, Hadis, Tawaf Ifadah
References
DAFTAR PUSTAKA
Am³n, A¥mad. Fajr al-Isl±m, Kairo: Maktabah an-Nahdah al-Mi¡r³yah, 1975, juz.III.
"Azami, Muhammad Mustafa. Studies in Hadith Methodology and Literature, diterjemahkan oleh A.Yamin, Bandung: Pustaka hidayah, 1996.
At±r, N³r ad-D³n. Manhaj an-Naqd f³ "Ul³m al-¦ad³£, Penerjemah Mujiwo, Bandung: Remaja Rosda Karya, 1994.
Baq³, Mu¥ammad Fu`ad "Abdul. Al-Mu"jam al-Mufahras li al-Fa§ al-Quran al-Kar³m, Indonesia: Maktabah ad-Dahl±wi, T.th.
al-Bukh±r³, Al-Im±m "Abdull³h Mu¥ammad bin Ism±"il bin Ibrah³m bin Mughirah bin Bardizbah. ¢a¥³¥ al-Bukh±r³, Beirt: D±r al-Kutub al-Ilm³yah, 1992, Juz.II.
al-Kha¯³b, Mu¥ammad "Ajj±j. `U¡l al-¦ad³£ : "Ulmuhu wa Mu¡¯ala¥uhu, Beirt: D±r al-Fikr, 1967.
Ismail, M.Syuhudi. Metodologi Penelitian Hadis Nabi, Jakarta: Bulan Bintang, 1992.
-------, Cara Praktis Mencari Hadis, Jakarta: Bulan Bintang, 1999.
-------, Hadis Nabi Menurut Pembela, Pengingkar, dan pemalsunya, jakarta: Gema Insani Press, 1995.
ar-Razi, Ab³ ¦±tim. Kitab al-Jar¥ wa at-Ta"d³l, Hayderabad: Majlis Da`irat al-Ma"arif, 1952), Juz.II.
a¡-¢±li¥, ¢ub¥³. "Ulm al-¦ad³£ wa Mu¡¯ala¥uhu, Beirt: D±r al-"Ilmi li al-Malay³n, 1977.
a¯-°a¥¥±n, Ma¥md. `U¡l at-Takhr³j wa Dir±sat al-Asanid, Beirt: D±r al-Quran al-Kar³m, 1976.
-------, Taisir Mu¡¯ala¥ al-¦ad³£, Beirt: D±r a£-¤aqafah Isl±m³yah, 1995.
Wensick, A.J. Al-Mu"jam al-Mufahr±s l³ al-Fa§ al-¦ad³£ an-Nabaw³, Leiden: E.J. Brill, 1942, juz.VI.
DOI:
https://doi.org/10.24952/tazkir.v9i1.97
Refbacks
There are currently no refbacks.
Copyright (c) 2015 TAZKIR
---

This work is licensed under a Creative Commons Attribution-ShareAlike 4.0 International License.
Editorial Office:
Institute for Research and Community Services; State Institute for Islamic Studies Padangsidimpuan.
Jl. T. Rizal Nurdin Km. 4,5 Sihitang 22733 Padangsidimpuan, North Sumatera, Indonesian.
Phone: (+62) 634  22080  Faximili: (+62) 634 24022 e-mail: lp2miain.padangsidimpuan@gmail.com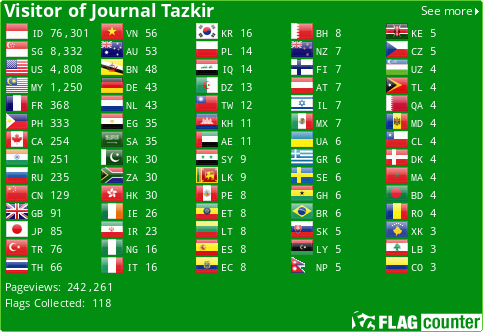 View My Stats