PELAKSANAAN KEPOLISIAN DALAM MENANGGULANGI JUDI ONLINE DI PADANGSIDIMPUAN
Abstract
ABSTRAK
Di Indonesia, judi merupakan salah satu akar  budaya yang sangat kental walaupun sifatnya laten karena secara hukum masih bersifat ilegal sebagaimana tertuang dalam UU No 7/1974 Pasal 303 KUHP yang menyatakan semua tindak pidana perjudian sebagai kejahatan. Permainan judi online merupakan salah satu dari jenis tindakan cybercrime sebagaimana tertuang dalam UU ITE No 11/2008 Pasal 27 yang berbunyi bahwa setiap orang yang dengan sengaja dan tanpa hak mendistribusikan, mentransmisikan atau membuat dapat diaksesnya informasi atau dokumen elektronik yang memiliki muatan perjudian dapat dikenakan sanksi pidana. Hal inilah yang menarik penulis untuk meneliti mengenai pelaksanaan kepolisian dalam menanggulangi judi online di Padangsidimpuan.
Dengan adanya koordinasi dan kerja sama yang baik antra masyarakat dan aparat penegak hukum akan mempermudah kepolisian dalam membongkar perjudian online tersebut. Berdasarkan pemaparan singkat latar belakang masalah tersebut menghasilkan permasalahan sebagai berikut:Bagaiman pelaksanaan kepolisian dalam rangka menanggulangi perjudian online di Padangsidimpuan dan Apa yang menjadi hambatan bagi Polisi dalam menanggulangi perjudian online di Padangsidimpuan.
Adapun Jenis Penelitian adalah penelitian kualitatif dalam bentuk sosial (field research) yaitu penelitian yang obyeknya mengenai gejala-gejala atau peristiwa yang terjadi pada masyarakat dan dipadukan dengan kepustakaan.Berdasarkan uraian yang telah dipaparkan di atas dapat dilihat bahwa pelaksanaan kepolisian dalam menanggulangi judi online di padangsidimpuan belum terlaksana dengan baik disebabkan beberapa faktor dan fungsionalisasi hukum pidana terhadap tindak pidana perjudian tidak hanya terletak pada efesiensi dan efektivitas kinerja masing-masing subsistem dalam peradilan pidana melainkan juga tergantung pada dukungan sosial maupun kelembagaan dalam rangka pembentukan opini masyarakat tentang tindak pidana perjudian dan sosialisasi hukum nasional secara luas.
ABSTRAK
In Indonesia, gambling is one of the cultural roots that is very thick despite its latent nature because it is legally still illegal as stated in Law No. 7/1974 Article 303 of the Criminal Code which states that all gambling crimes are crimes. Online gambling games are one of the types of cybercrime actions as stated in the ITE Law No. 11/2008 Article 27 which states that every person who intentionally and without rights distributes, transmits or makes access to information or electronic documents that have gambling content subject to sanctions criminal. This is what attracts the writer to examine the implementation of police in tackling online gambling in Padangsidimpuan.
With good coordination and cooperation between the community and law enforcement officials, it will make it easier for the police to dismantle the online gambling. Based on a brief explanation of the background of the problem, the following problems are generated: How the police implement in order to overcome online gambling in Padangsidimpuan and What is a barrier for Police in tackling online gambling in Padangsidimpuan.
The type of research is qualitative research in the form of social (field research) that is research whose objects are about the symptoms or events that occur in the community and combined with literature. Based on the description described above it can be seen that the implementation of police in tackling online gambling in Padangsidimpuan has not been implemented well due to several factors and functionalization of criminal law against gambling crime not only lies in the efficiency and effectiveness of the performance of each subsystem in criminal justice but also depends on social and institutional support in order to form public opinion about the crime of gambling and legal socialization nationally wide.
Kata Kunci : Kepolisian, Judi Online, Padangsidimpuan
DOI:
https://doi.org/10.24952/tazkir.v4i2.917
Refbacks
There are currently no refbacks.
Copyright (c) 2019 TAZKIR: Jurnal Penelitian Ilmu-ilmu Sosial dan Keislaman
---

This work is licensed under a Creative Commons Attribution-ShareAlike 4.0 International License.
Editorial Office:
Institute for Research and Community Services; State Institute for Islamic Studies Padangsidimpuan.
Jl. T. Rizal Nurdin Km. 4,5 Sihitang 22733 Padangsidimpuan, North Sumatera, Indonesian.
Phone: (+62) 634  22080  Faximili: (+62) 634 24022 e-mail: lp2miain.padangsidimpuan@gmail.com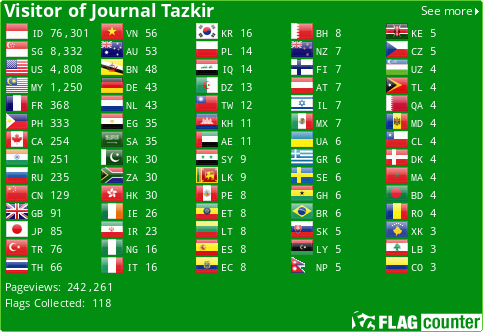 View My Stats