Tantangan Program Studi Berbasis Islam
Abstract
Abstrak
Kelangkaan   peminat   bagi   sebagian   program   studi   berbasis   Islam merupakan  salah  satu  tantangan  yang  dihadapi  pada  saat  ini,  oleh  karenanya prodi-prodi tersebut berusaha keras untuk merubah situasi tersebut. Metode yang digunakan  dalam  kajian  ini  adalah  kualitatif  dengan  pendekatan  deskriptif sehingga dihasilkan dalam kajian ini bahwa prodi yang langka peminat hendaknya memperbaiki elemen-elemen seperti manajemen, administrasi, kepemimpinan, proses pembelajaran, teknis sosialisasi dan promosi serta mempersiapkan alumni yang siap pakai sehingga mendapatkan perhatian dari masyarakat secara baik.
            Kata Kunci: langka, peminat, beasiswa
Abstract
The scarcity of enthusiasts for some Islamic-based study programs is one of the challenges faced at this time, therefore the study programs are trying hard to change  the  situation.  The  method  used  in  this  study  is  qualitative  with  a descriptive approach so that it is produced in this study that a rare study program interested   in   improving   elements   such   as   management,   administration, leadership, learning process, technical socialization and promotion as well as preparing alumni who are ready to use the community well.
Key words: rare, enthusiasts, scholarships
References
Arief Furchan.. Transformasi Pendidikan Islam di Indonesia
Yogyakarta: Gama Media, 2004
Ashar, Strategi Pengembangan Program Studi Ahwalussyahsiyah Jurusan
Syariah dan Ekonomi Islam STAIN Samarinda, Jurnal Fenomena Vol.6 No.2
Azyumardi Azra. IAIN di Tengah Paradigma Baru Perguruan Tinggi. Tersedia http://www.diktis.net/artikel/azyu01.asp, diakses 05 Maret 2018.
Fakultas Dakwah dan Ilmu Komunikasi, Renstra FDIK 2014-2022
Fetty Ernawati dan Djam'an Satori, Strategi Peningkatan Mutu Pendidikan Pada Program Studi Langka Peminat DI PTAIN, Jurnal Administrasi Pendidikan Vol.XV No.1 April 2012
Nunun Tri Widarwati, Pengelolaan Program Studi, Jurnal Widyatama, No.2 / Volume 21 / 2012
Qomar Mujamil. Manajemen Pendidikan Islam: Strategi Baru
Pengelolaan Lembaga Pendidikan Islam, Jakarta: Erlangga, 2007
Serian Wijatno, Pengelolaan Perguruan Tinggi Secara Efisien, Efektif, dan Ekonomis: Untuk Meningkatkan Mutu Penyelenggaraan Pendidikan Mutu Lulusan, Jakarta: Salemba Empat, 2009
Sistem Informasi Akademik (SIAKAD) Fakultas Dakwah dan ilmu
Komunikasi IAIN Padangsidimpuan, diakses 20 Desember 2017.
DOI:
https://doi.org/10.24952/tazkir.v4i2.916
Refbacks
There are currently no refbacks.
Copyright (c) 2019 TAZKIR: Jurnal Penelitian Ilmu-ilmu Sosial dan Keislaman
---

This work is licensed under a Creative Commons Attribution-ShareAlike 4.0 International License.
Editorial Office:
Institute for Research and Community Services; State Institute for Islamic Studies Padangsidimpuan.
Jl. T. Rizal Nurdin Km. 4,5 Sihitang 22733 Padangsidimpuan, North Sumatera, Indonesian.
Phone: (+62) 634  22080  Faximili: (+62) 634 24022 e-mail: lp2miain.padangsidimpuan@gmail.com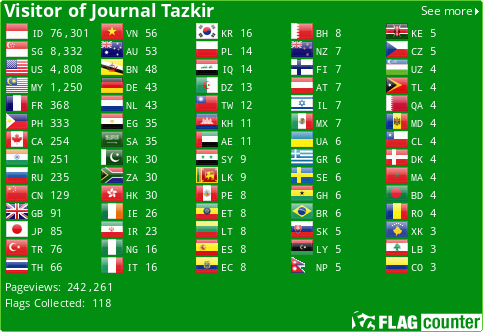 View My Stats