TRANSLATION METHODS IN LITERARY WORK: A DESCRIPTIVE ANALYSIS OF INDONESIAN'S TRANSLATOR
Abstract
Translation is an activity to transfer a message from certain language to other language as similar as the original message from the source text. One of the novel that has good quality in translation is the the Old Man and the Sea (TOMatS) by Ernest Hemingway and it is translated by Dian Vita Elliyati. This research is aimed to investigating the methods used in translating expression of emotion and the frequency of method used in translating them. The last one is to investigate the pattern of translations methods in TOMatS Novel. This research uses descriptive design. The instrument of this research is the writer itself. The data source of this research is the novel entitled The Old Man and the Sea and its translation. Furthermore, the data of this research is all the expression of emotions in the novel The Old Man and the Sea and its translation. The result of this research is that the novel has 55 expression of emotions in TOMatS novel. Meanwhile, from 55 data, the writer found that the translator uses different methods in translating the expression of emotion. The writer found that the translator use literal translation in translating 15 data (27.27%), Semantic Translation Method is used to translate 18 data (32.72%), Communicative Translation Method is used to translate 18 data too (32.72%) and Word-for-Word Translation Method is only used to translate 4 data (7.27%). Furthermore, Literal Translation Method is mostly used to translate Emotion of Satisfactory Affection (8 data or 14.55%). Then Semantic Translation Method is mostly used to translate Emotion of Unsatisfactory Affection (6 data or 10.91%). In addition, Communicative Translation Method is mostly used to translate Emotion Of Satisfactory Affection (6 data or 10.91%) and Emotion of Unsatisfactory Affection (6 data or 10.91%).  Additionally, Word-for-Word Translation Method is mostly used to translate Emotion Of Unsatisfactory Affection (2 data or 3.64%). For the next researchers who concern to the translation, it is suggested that they investigate the technique used in translating novel because it is very important to help translators, especially for the translators who translate the literary work
Keywords
Translation Method; Expression of Emotions; the Old Manand the Sea; Dian Vita Elliyati.
References
Ian F, dan Finlay. Teach Yourself Translating. London: The English University Press Limited, 1971.
Munday, Jeremy. Introducing Translation Studies: Theories and Applications. 3rd Editions. London and New York: Routledge, 2013. https://books.google.co.id/books?id=BS8xAAAAQBAJ&pg=PT375&dq=Munday,+J.+2001.+Introducing+Translation+Studies:+Theories+and+Applications&hl=en&sa=X&ved=0ahUKEwium_fLoeDfAhXFvI8KHdHqCEEQ6AEIKDAA#v=onepage&q=Munday%2C%20J.%202001.%20Introducing%20Translation%20Studies%3A%20Theories%20and%20Applications&f=fals.
Nadar, FX. Paham dan Terampil Menerjemahkan. Yogyakarta: Fakultas Ilmu Bahasa UGM, 2007.
Newmark, Peter. A Textbook of Translation. New York: Prentice-Hall International, 1988.
Simatupang, Maurits D.S. Pengantar Teori Terjemahan. Jakarta: Depdiknas, 2000.
DOI:
https://doi.org/10.24952/tazkir.v4i1.858
Refbacks
There are currently no refbacks.
Copyright (c) 2019 TAZKIR: Jurnal Penelitian Ilmu-ilmu Sosial dan Keislaman
---

This work is licensed under a Creative Commons Attribution-ShareAlike 4.0 International License.
Editorial Office:
Institute for Research and Community Services; State Institute for Islamic Studies Padangsidimpuan.
Jl. T. Rizal Nurdin Km. 4,5 Sihitang 22733 Padangsidimpuan, North Sumatera, Indonesian.
Phone: (+62) 634  22080  Faximili: (+62) 634 24022 e-mail: lp2miain.padangsidimpuan@gmail.com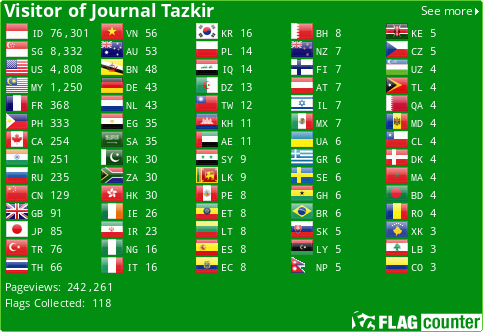 View My Stats