AN EVALUATION ON STUDENTS' READING MOTIVATION AND THEIR READING COMPREHENSION OF THE ENGLISH DEPARTMENT STUDENTS IAIN PADANGSIDIMPUAN
Abstract
Permasalahan yang diangkat dalam penelitian ini adalah motivasi membaca mahasiswa yang masih tergolong rendah dan kemampuan membaca yang masih dikatakan belum cukup memuaskan. Hal inilah yang menyebabkan peneliti tertarik untuk melakukan penelitian ini, dengan tujuan untuk mengetahui apakah motivasi membaca tersebut memiliki hubungan yang signifikan terhadap kemampuan membaca mereka. Penelitian ini menguji hubungan antara motivasi membaca dan kemampuan membaca mahasiswa Bahasa Inggris di IAIN Padangsidimpuan. Penelitian ini dalam bentuk kuantitatif dengan tipe korelasi, dengan mengambil 40 mahasiswa sebagai sampel penelitian. Instrumen penelitian ini adalah angket tentang motivasi membaca dan tes membaca pemamahaman dalam bentuk pilihan berganda. Data dianalisa menggunakan analisis statistik  melalui SPSS 22. Dari hasil analisis ditemukan bahwa motivasi membaca mahasiswa pada level baik karena memiliki skor sekitar 80, namun untuk kemampuan membaca mahasiswa, nilai rata-ratanya hanya pada level cukup, sekitar 60 saja. Selanjutnya, dari analisa data yang dilakukan maka ditemukan bahwa korelasi antara kedua variable adalah sangat lemah, namun terdapat hubungan yang signifikan antara motivasi membaca dengan kemampuan membaca dari hasil uji-t, dan dinyatakan bahwa hipotesis diterima
Keywords
motivasi, membaca dan membaca pemahaman
References
Ching-Chun Shih, Relationships among student attitudes, motivation, learning styles, learning strategies, patterns of learning and achievement: a formative evaluation of distance education via Web-based courses. Iowa State University, Digital Repository @ Iowa State University, 1998.
Eriska Erman, The Correlation Between Students' Reading Motivation and Students' Reading Comprehension (A Study at Eleventh Grade of SMA Negeri 11 Padang).
Hairul, N. I., Ahmadi, M. R., & Pourhossein, A. G. The role of reciprocal teaching strategy as an important factor of improving reading motivation. Elixir educational technology,53(3)2229-712X. 2012.
Hsiang-Yung Feng, et. al. The Relationship of Learning Motivation and Achievement in EFL: Gender as an Intermediated Variable. Educational Research International, Vol. 2, No. 2, October 2013.
Mohammaed Reza Ahmadi. The Relationship between Students' Reading Motivation and Reading Comprehension. Journal of Education and Practice. Vol 4 No. 8, 2013 retrieved from http://pakacademicsearch. com/pdf-files/edu/413/8-17%20Vol%204,%20No%2018%20(2013).pdf on Oct, 5, 2016.
Oshima, Alice and Hogue, Ann., Introduction to Academic Writing. Third Edition, New York Pearson Education, Inc. 2007.
Purwanto, Ngalim. Psikologi Pendidikan. Bandung: PT. Remaja Rosda Karya. 2006.
Sanson, Carol and Judith M. Harackeiwicz. Intrinsic and Extrinsic Motivation: The Search for Optimal Motivation and Performance. Sandiego: A Harcourt Science and Technology (e-book). 2000.
Sanggam Siahaan, The English Paragraph, Yogyakarta: Graha Ilmu, 2007.
Sofyan Siregar. Statistik Parametrik untuk Penelitian Kuanttatif. Jakarta: Bumi Aksara. 2014.
Slavin, Robert, E. Educational Psychology. Boston: Pearson Education, Inc., 2006.
Yun Dai, David and Sternberg, Robert. Motivation, Emotion, Cognition: Integrative Perspectives on Intellectual Functioning and Development. London: Lawrence Erlbaum Associates, 2004.
DOI:
https://doi.org/10.24952/tazkir.v3i1.817
Refbacks
There are currently no refbacks.
Copyright (c) 2018 TAZKIR: Jurnal Penelitian Ilmu-ilmu Sosial dan Keislaman
---

This work is licensed under a Creative Commons Attribution-ShareAlike 4.0 International License.
Editorial Office:
Institute for Research and Community Services; State Institute for Islamic Studies Padangsidimpuan.
Jl. T. Rizal Nurdin Km. 4,5 Sihitang 22733 Padangsidimpuan, North Sumatera, Indonesian.
Phone: (+62) 634  22080  Faximili: (+62) 634 24022 e-mail: lp2miain.padangsidimpuan@gmail.com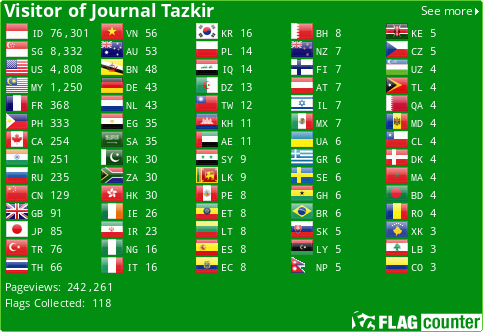 View My Stats