PENERAPAN AJARAN TASAWUF-TAREKAT DI PONDOK PERSULUKAN (PONSLUK) DARUSSOUFIYAH DESA HUTA LOMBANG KECAMATAN PADANGSIDIMPUAN TENGGARA (Suatu Tinjauan Aplikatif Metodologis) Oleh :
Abstract
Abstract
This Collective research is descriptive research qualitative aim to see to near from applying of teaching of tasawuf-tarekat in The Maisonette of Persulukan (Ponsluk) Darussoufiyah Countryside of Huta Lombang District of Padangsidimpuan South-East as one of the institute education of religious nonformal continual in guiding all " Salikin", both for have old man age and also relatively young. As for instrument gathering of data in this research are observation, interview deef and follow as participant. Besides meeting khalifah and some of its pupil which looked into can give clarification and information.
The Maisonette of Persulukan (Ponsluk) Darussoufiyah Countryside of Huta Lombang District of Padangsidimpuan South-East teaching of tasawuf-tarekat taught and applied with science about tasawuf-tarekat like practicing or maqomat to implentation, elementary teaching and indepth way of sufism to the seasonal and mandah with interest ahead give study about bases of faith of God, fiqh, behavior, tasawuf step by step and transformasi
Excellence of maisonette of Persulukan (Ponsluk), on personality, science and seriousness of Sheikh H. Muhammad Fauzi Siregar, where character, demeanour and his compatible characteristic very as counsellor (Mursyid). That thing are supported by its ability explain indepth coherent ketarekatan everyday way of living with simple life concept. Socialization conducted by Sheikh H. Muhammad Fauzi Siregar by lifting to all pupil become Khalifah Tawajuh and of Khalifah Tarekat. If no in this place, hence activity of religious service ritual, Tawajuh, Recitation, Khataman and other will remain to walk with existence of khalifah or it to proxymity.
Keyword : Ponsluk, tasawuf-tarekat dan Darussoufiyah
References
DAFTAR PUSTAKA
Abdul Al-Karim bin Hawazin Al-Qusyayri. Risalah Al-Qusyaiyriyah, terjemahan Ahsin Muhammad, Bandung: Pustaka, 1994.
Abdul Razak Al-Kasyani. Isthirahat Al-Suffiyah, Dar al-Ma'arif, 1984.
Aboe Bakar Ajteh. Pengantar Ilmu Tarekatf, Uraian Tentang Mistik, Solo: Ramadhani, 1990.
Ahmad al-Kamasythani. Al-Ushul fi al-Awliya' Kairo: Dar al-Kutub al-Arabiyah, tth.
Amatullah Amstrong. Khazanah Istilah Sufi Kunci Memasuki Dunia Tasawuf, Jakarta: Mizan, 1996.
Asmaran A.S. Pengantar Studi Tasawuf, Jakarta: Raja Grafindo Persada, 1996.
Brill's. E.J. First Encyclopedia of Islam, Volume VIII, Leiden: E.J Brill, 1987
DEPAG RI. Al-Quran dan Terjemahnya, Semarang: Toha Putra, 1990.
Fuad Said. Hakikat Tarekat Naqsyabandiyah, Jakarta: Pustaka al-Husna, 1994.
Harun Nasution , Filsafat dan Mistisme dalam Islam, Jakarta: Bulan Bintang, 1973.
Harun Nasution. Islam Ditinjau dari Berbagai Aspeknya, Jilid II, Jakarta: UI Press, 1979.
IAIN SU. Pengantar Ilmu Tasawuf, Medan: IAIN Press, 1982.
J.S Trimingham. The Sufi Orther in Islam, USA: Oxford University Press, 1997.
Khalili al-Banar J Hanafi R. Ajaran Tarekat Suatu Pendekatan Diri Terhadap Allah Swt, Surabaya: Bintang Pelajar, tth.
Khalili al-Banna J Hanafi R. Ajaran Tarekat Suatu Jalan Pendekatan Diri Terhadap Allah SWT, Surabaya: Bintang Pelajar, tth.
M. Amin Al-Kurdi. Tanwir Al-Qulub, Beirut: Dar al-Fikr, tth
M. Shalih Siregar Warga desa, Simangintir tgl. 24 September 2009.
Munawwir, A.W, Kamus Al-Munawwir Arab-Indonesia, Yogyakarta: Pondok Krafiyah, 1994.
Musthafa Zahri, Kunci Memahami Ilmu Tasawuf, Semarang: Toha Putra, 1993.
Najmuddin al-Kurdi, Tanwir al-Qulub Beirut; Dar al-Fiqr. tth.
Sayyed Hosein Nasr. Sufi Essays, London: George Allen and Ltd, 1972.
Tazkir Vol. 9 No. 1 Januari-Juni 2014
Simuh. Tasawuf dan Perkembangannya dalam Islam, Jakarta: Raja Grafinndo Persada, 1997.
Syekh Muhammad Fauzi Siregar Observasi dan Deef Interview di Pondok Parsulukan Darusoufiyah Huta Lombang
DOI:
https://doi.org/10.24952/tazkir.v9i1.77
Refbacks
There are currently no refbacks.
Copyright (c) 2015 TAZKIR
---

This work is licensed under a Creative Commons Attribution-ShareAlike 4.0 International License.
Editorial Office:
Institute for Research and Community Services; State Institute for Islamic Studies Padangsidimpuan.
Jl. T. Rizal Nurdin Km. 4,5 Sihitang 22733 Padangsidimpuan, North Sumatera, Indonesian.
Phone: (+62) 634  22080  Faximili: (+62) 634 24022 e-mail: lp2miain.padangsidimpuan@gmail.com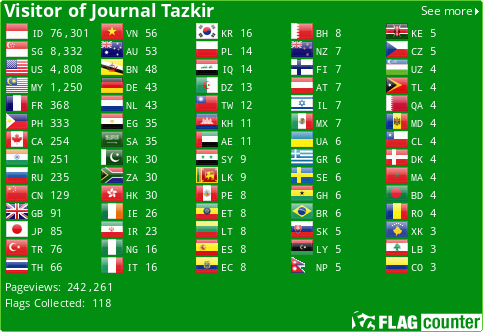 View My Stats