PENGARUH JENIS KECERDASAN TERHADAP HASIL BELAJAR TOPIK ALJABAR KELAS VIII MTSN SE-KOTA PADANGSIDIMPUAN
Abstract
Penelitian ini bertujuan untuk mengeksplorasi pengaruh ketujuh jenis kecerdasan manusia menurut Howard Gardner (1983) dari kemampuan siswa dalam menyelesaikan masalah khususnya pada topik aljabar. Penelitian ini terdiri dari 115 responden yang diambil secara random  dari populasi. Pengumpulan data dengan menggunakan test dan angket. Hasil uji hipotesis diperoleh dengan  Fhitung 2,327 > Ftabel 2,09 pada taraf signifikansi α=0,05. Dengan menggunakan uji Scheffe, urutan dari kemampuan menyelesaikan soal aljabar berdasarkan jenis kecerdasan adalah: Logika-matematika> Kinestetik> Intrapersonal > Interpersonal > Linguistik > Spasial > Musika
Keywords
kinds of intelegence, multiple intelegence, mathematics, and Algebra
References
Brown, Douglas H. Strategies for Success. New York: Longman, 2002
Chislett, V. and A Chapman. Multiple Intelligences Test - based on Howard Gardner's MI Model. Retrieved from www.businessball.com on March 2, 2015
Dannenhoffer, Joan V. dan Robert J. Radin. Using Multiple Intelligence Theory in Mathematic Classroom. A paper presented in a seminar at Ward College of Technology at The University of Hartford, 1998
Gardner, H dan T. Hatch. Multiple Intelligences Go To School: Educational Implications of the Theory of Multiple Intelligences. Educational Researcher, Vol. 18, No. 8 (Nov., 1989).
Gardner, Howard. Frames of Mind: The Theory of Multiple Intelligences. New York: Basic Books, 1983
Gardner, Howard. Howard Gardner's Theory of Multiple Intelligences. Retrieved from www.niu.edu on April 4, 2015
Munro, John. Multiple Intelligences and Mathematics Teaching. Paper presented at the Annual Conference of the Australian Remedial Mathematical Education Association., 1994., p. 2
Temur, Ozlem Dogan. The Effects of Teaching Activities Prepared According to the Multiple Intelligence Theory on Mathematics Achievements and Permanence of Information Learned by 4th Grade Students. International Journal of Environmental & Science Education, 2007, 2(4), 86 – 91
Xie, Jingchen dan Ruilin Lin. Research on Multiple Intelligences Teaching and Assessment. Asian Journal of Management and Humanity Sciences, Vol. 4, No. 2-3, pp. 106-124, 2009
DOI:
https://doi.org/10.24952/tazkir.v2i2.511
Refbacks
There are currently no refbacks.
Copyright (c) 2017 TAZKIR: Jurnal Penelitian Ilmu-ilmu Sosial dan Keislaman
---

This work is licensed under a Creative Commons Attribution-ShareAlike 4.0 International License.
Editorial Office:
Institute for Research and Community Services; State Institute for Islamic Studies Padangsidimpuan.
Jl. T. Rizal Nurdin Km. 4,5 Sihitang 22733 Padangsidimpuan, North Sumatera, Indonesian.
Phone: (+62) 634  22080  Faximili: (+62) 634 24022 e-mail: lp2miain.padangsidimpuan@gmail.com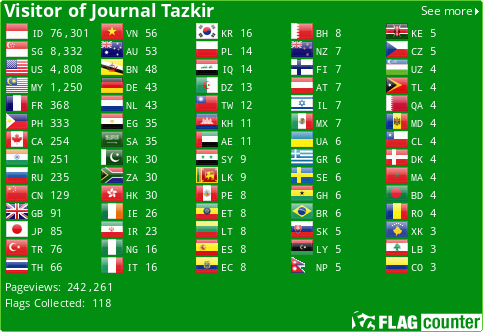 View My Stats