PROFESIONALISME GURU MATEMATIKA DALAM MERENCANAKAN PEMBELAJARAN BERBASIS KOMPETENSI
Abstract
Good Lesson Planning will make teachers easier in helping students' learning; and students are also assisted in understanding the subject matter. Lesson Plan is developed according to the needs and characteristics of learners, schools and subjects. Each teacher is required to formulate a complete syllabus and lesson plans. A math teacher should be able to design a lesson plan in accordance with the characteristics and approaches contained in math. This study aimed to determine how the knowledge and ability of math teachers of Senior High Schools in Padangsidimpuan city in developing lesson planning. This research is classified into descriptive study. Data were collected by using competency test and questionnaires. Based on data analysis, it can be concluded that the teachers' knowledge in developing Lesson Plans is enough, while the ability of the teachers in developing is good enough. Finally, it is known that there is the significant correlation between teachers' knowledge and teachers' ability in developing Lesson Plans.
Keywords
Teacher, professionalism, and lesson plan
References
Arikunto, S. 2005. Dasar-dasar Evaluasi Pendidikan, Jakarta: Bumi Aksara
Azwar, S. 2004. Metode Penelitian. Jogjakarta ,Pustaka Pelajar
BSNP, 2007. Petunjuk Teknis Pengembangan Silabus Matematika SMA. Jakarta: Depdiknas
Depdiknas, 2009. Diklat/Bintek KTSP SMA. Jakarta: Dit. PSMA
_________, 2010. Analisis Standar Proses. Jakarta: Dit. PSMA
_________, 2010. Pelaksanaan Pembelajaran dan Implementasi KTSP di SMA. Jakarta: Dit. PSMA.
Desiani, R, 2007. Problematika Pembelajaran Matematika berdasarkan Kurikulum Berbasis Kompetensi yang dihadapi guru Matematika, (Online), www.google.com. http:// eprints.umm.ac.id diakses 17 Maret 2011
Kunandar, 2007. Guru Profesional Implementasi Kurikulum Tingkat satuan Pendidikan (KTSP) dan Sukses dalam Sertifikasi Guru. Jakarta: Raja Grafindo Persada
Kusumawati. 2005. Problematika Guru dalam Pembelajaran Matematika., (Online) www.google.com. http:// skripsi.umm.ac.id. diakses 17 Maret 2011
Lukmanul Hakim, 2007. Perencanaan Pembelajaran. Bandung: Wacana Prima
Muslich, M.2008. KTSP Pembelajaran Berbasis Kompetensi dan Kontekstual. Jakarta: Bumi Aksara
Mulyasa, E, 2007. Kurikulum Tingkat Satuan Pendidikan. Bandung: Remaja Rosdakarya
_______. 2008. Implementasi Kurikulum Tingkat Satuan Pendidkan Kemandirian Gurur dan Kepala Sekolah. Jakarta: Bumi Aksara
Rusman, 2011. Model-Model Pembelajaran Mengembangkan Profesionalisme Guru. Jakarta: Raja Grafindo Persada
________, 2009. Manajemen Kurikuum, Jakarta: raja Grafindo Persada
Sanjaya, W. 2008. Strategi Pembelajaran, Jakarta: Kencana
__________, 2009, Strategi Pembelajaran Berorientasi Standar Proses Pendidika, Jakarta: Kencana
Sutiah, M dan Prabowo, S.L2008. Pengembangan Model Kurikulum Tingkat Satuan Pendidikan (KTSP) pada Sekolah & Madrasah. Jakarta: Raja Grafindo Persada
Uno, H, 2008. Model Pembelajaran. Jakarta: Bumi Aksara
DOI:
https://doi.org/10.24952/tazkir.v2i1.399
Refbacks
There are currently no refbacks.
Copyright (c) 2016 LPPM IAIN Padangsidimpuan
---

This work is licensed under a Creative Commons Attribution-ShareAlike 4.0 International License.
Editorial Office:
Institute for Research and Community Services; State Institute for Islamic Studies Padangsidimpuan.
Jl. T. Rizal Nurdin Km. 4,5 Sihitang 22733 Padangsidimpuan, North Sumatera, Indonesian.
Phone: (+62) 634  22080  Faximili: (+62) 634 24022 e-mail: lp2miain.padangsidimpuan@gmail.com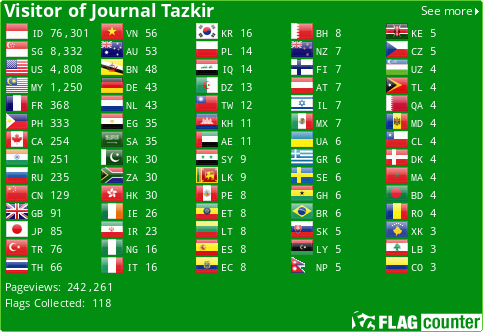 View My Stats