PENERAPAN ILMU KOMUNIKASI DAN PSIKOLOGI DALAM PROSES DAKWAH PENGARUHNYA TERHADAP PENGAMALAN AGAMA MASYARAKAT DI KECAMATAN PADANGSIDIMPUAN SELATAN
Abstract
This research aimed to know the influence of implementing the communications and psychology itself in process of da'wa or both (communications and psyschology) to the religious practice of society. The sample of this research is 120 persons chosen by cluster sampling.  Data have been collecting through questionnaires; then analyzed by using statistical and descriptive statistical analysis of inferential. From data analysis, it is known that the implementation of communications has strong influences to the religious practice of society, it is 0.929. It also happens to the implementation of psychology, it is also found that the influence is strong, it is 0.880. From two varibales (implementation of communications and implementation of psychology), it has strong influences to the religious practice of society, it is about 0.939. It can be said that the influence of the implementation of communication to the religious practice of society in Padangsidimpuan Selatan disctrict is positif and significant. It is proved by the result, that is 27.339 > 1.659. Then, the implementation of psychology to the religious practice of society is also positif and significant, it is 20.114 > 1.659. Finally, both variables (communications and psychology) give positif and significant influence to the religious practice of society, it is 437.897 > 3.08.
Keywords
Implementation, communications, psychology, and the religious practice.
References
A. S, Tutty Alawiyah. "Paradigma Baru Dakwah Islam; Pemberdayaan Sosio-Kultural Mad'u," dalam Dakwah, Vol. 3. No.2 November 2001.
Baharuddin, Paradigma Psikologi Islami. Yogyakarta: Pustaka Pelajar, 2004.
Cangara,Hafied. Pengantar Ilmu Komunikasi. Jakarta: Raja Grafindo Persada, 2004.
Effendy,Onong Uchjana. Ilmu Komunikasi Teori Dan Praktek. Bandung: Remaja Rosdakarya, 2001.
__________________. Dinamika Komunikasi. Bandung: Remaja Rosdakarya, 2000.
Kholil, Syukur. Metodologi Penelitian Komunikasi. Bandung: Citapustaka Media, 2006.
Munir, M. Metode Dakwah. Jakarta: Prenada Media, 2003.
Tasmara,Toto. Komunikasi Dakwah. Jakarta:Gaya Media Pratama,1997.
Yayasan Penyelenggara Penterjemah al-Quran. al-Quran dan Terjemahnya. Semarang: Toha Putra, 1989.
DOI:
https://doi.org/10.24952/tazkir.v2i1.396
Refbacks
There are currently no refbacks.
Copyright (c) 2016 LPPM IAIN Padangsidimpuan
---

This work is licensed under a Creative Commons Attribution-ShareAlike 4.0 International License.
Editorial Office:
Institute for Research and Community Services; State Institute for Islamic Studies Padangsidimpuan.
Jl. T. Rizal Nurdin Km. 4,5 Sihitang 22733 Padangsidimpuan, North Sumatera, Indonesian.
Phone: (+62) 634  22080  Faximili: (+62) 634 24022 e-mail: lp2miain.padangsidimpuan@gmail.com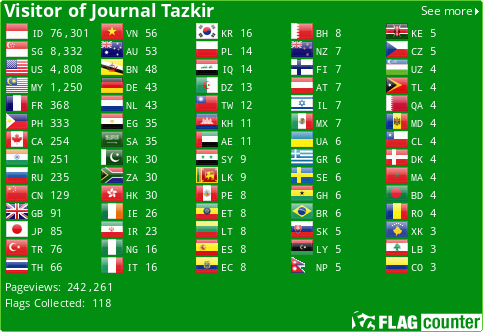 View My Stats