PENETRASI ADAT BATAK ANGKOLA TERHADAP HUKUM ISLAM DI KECAMATAN BATANG ANGKOLA
Abstract
Custum has influence the Islamic Law ecpecialy related to merriage law.  Key points where customary law, including the law of Islam is at the event making a proposal, the party walimah and household peorses dispute resolution in this case a husband and wife. Thus the intersection between customary law and Islamic law can be obtained in the process of grounding the Islamic law. Islamic law can not be earthed directly without a device equipped with the customary law. Attitude contradicting Islamic law with customary law as a whole will make Islamic law looks stiff and coused adherents have a narrow view of making it easier for the fire hostility.
Keywords
Penetration, Batak, Islamic Law and the District of Batang Angkola
References
al-Zuhaily, Wahbah. Al-Wasith fi al-Ushul al-Fiqh al-Islami, Damsik, al-Mathba'ah al-Ilmiyah, 1969
Ashiddieqy,TM. Hasbi. Pengantar Hukum Islam, Jakarta, Bulan Bintang, 1994
Benda, Harry J. The Crescent and the Rising Sun, The Hague, 1985
Bisri, Cik hasan. Pilar-Pilar Penelitian Hukum Islam dan Pranata Sosial, Jakarta, Raja Grapindo Persada, 2004
Faisal, Sanafiah. Penelitian Kualitatif, Malang, YA3 1990
Hanafi, Ahmad. Pengantar dan Sejarah Hukum Islam, Jakarta, Bulan Bintang, 1970
Karim, H.A Syafi'I. Fiqh – Ushul Fiqh, Bandung, Pustaka Setia, 1995
Moleong, Lexy. Metodologi Penliltian Kualitatif, Bandung, Remaja Rosda karya, 1989
Noer,Deliar. The Modernist Muslim Movement in Indonesia, KL, London, 1973
Notosusanto, Organisasi dan Juris prudensi Peradilan Agama di Indonesia, Yogyakarta, Yayasan Badan Penerbit Gajah Mada, 1963
Partanto, Pius A. dan M.Dahlan AL Barry, Kamus Ilmiyah Populer, Surabaya, Arkola, 1994
Rofiq, Ahmad. Hukum Islam di Indonesia., Jakarta, Raja Grapindo Persada, 1995
Shiddieqy, T.M. Hasbi Ash. Pengantar Hukum Islam II, Jakarta, Bulan Bintang, 1981
Shihab, M.Quraish. dkk., Sejarah dan Ulul al-Qur'an, Jakarta, Pustaka Pirdaus, 1999
Soekamto, Soejaono. Pengantar Penelitian Hukum, Jakarta, UI-Press, 1986
St.Roestam dkk. Menelusuri Perkekmbangan Sejarah Hukim dan Syari'at Islam, Jakarta, Kalam Mulia, 1992
Suminto, H.Aqib. Politik Islam Hindia Belanda, Jakarta.,LP3ES, 1986
Surjaman, Tjun. (ed), Hukum Islam di Indonesia Pemikiran dan Praktek, Bandung, Rosda Karya, 1991
Syarifuddin, Amir. Ushul Fiqh jilid I, Surabaya, Logos Wacana Ilmu dan Pemikiran, 1997
Thalib, Sajuti. Receptio a Contrario, Jakarta, Bina Aksara, 1982
Wahid, Abdulrahman. et.al., Kontraversi Pemikiran Islam di Indonesia, Bandung, Rosda Karya, 1991
DOI:
https://doi.org/10.24952/tazkir.v1i2.369
Refbacks
There are currently no refbacks.
Copyright (c) 2016 LPPM IAIN Padangsidimpuan
---

This work is licensed under a Creative Commons Attribution-ShareAlike 4.0 International License.
Editorial Office:
Institute for Research and Community Services; State Institute for Islamic Studies Padangsidimpuan.
Jl. T. Rizal Nurdin Km. 4,5 Sihitang 22733 Padangsidimpuan, North Sumatera, Indonesian.
Phone: (+62) 634  22080  Faximili: (+62) 634 24022 e-mail: lp2miain.padangsidimpuan@gmail.com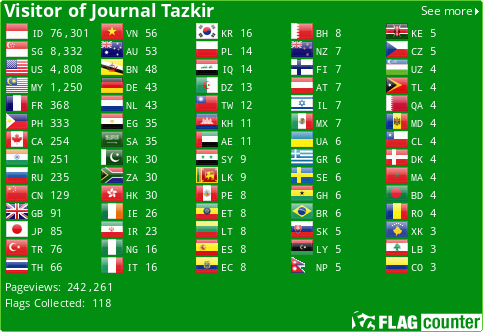 View My Stats