MOTIVASI SULUK 5 HARI DAN KETEKUNAN BERIBADAH PENGAMAL TAREKAT NAQSYABANDIYAH SYEKH H. MHD.IHSAN HARAHAP (Studi Analisis pada Murid Usia Minus 40 Tahun)
Abstract
This research is a study of analysis on a pupil's age minus 40 years. The formulation of the problem is what motivation suluk 5 days on the Shaykh Naqshbandi guidance h. Mhd. Ihsan Harahap and how perseverance serve pupils aged 40 years after it was completed minus suluk 5 days.This research is descriptive qualitative research. The time this research was planned for 6 months where the subject is referred to in this research was Sheikh h. Mhd. Ihsan Harahap and his disciple. The method used in determining the subject of the research using the method of pourposive sampling.The results of the study found the description about the motivation of suluk 5 days on the Shaykh Naqshbandi guidance H. Mhd. Ihsan Harahap viewable from two things; first the willingness of his congregation and the second from the whims of Sheikh h. Mhd. Ihsan Harahap and Caliphs as the loyal right hand man helped him. Motivation in the presence the call of soul worship in the disciples. Then extrinsic existence of socialization through Da'wah of Shaykh, the influence of friends, the mindset of people that worship time efficiency in suluk
Keywords
Motivation, Mysticism, Worship and Tarekat Participants
References
Abdul Shamad Al-Palimbani. Syaral-Salikin Juz I, Beirut: Maktabah Al-Mukarramah, tt.
Ahmad Rohani dan H. Abu Ahmadi, Pengelolaan Pengajaran, Jakarta: Rineka Cipta, 2000.
Bey Arifin dan Abdullah Said, Rahasia Ketahanan Mental dan Bina Mental dalam Islam, Surabaya: Al-Ikhlas, 1981.
Departemen Agama RI, Al-Qur'an dan Terjemahnya, Semarang: Toha Putra, 2009.
Dimyati dan Mujiono, Belajar dan Pembelajaran, Jakarta: Rineka Cipta, 1999.
Fuad Said, Hakekat Tarekat Naqsyabandiyah, Jakarta: Pustaka Al-Husna, 1994.
Imam Bukhari. Terjemahan Shahih Bukhari, Juz IV, Semarang: Dahlaq tt.
Imran Abu Ammar, Di Sekitar Tarekat Naqsyabandiyah, Kudus: Menara, 1950.
Lexy J. Moleong, Metode Penelitian Kualitatif Edisi Revisi, Jakarta: Rosda Karya, 2010.
Mahmud Yunus, Kamus Arab-Indonesia, Jakarta: Hidakarya Agung, 1989.
Muhammad Fuad Abdul Baqi, Al-Mu'jam Al-Mufarros li Al-Fazhi Al-Qur'an Al-Karim, Beirut: Dar Fikr, tth.
Najamuddin Amin Al-Kurdi, Tanwir Al-Qulub, Beirut: Dar Al-Fikr, tt
Norman K. Denzin dan Yvonna S. Lincoln (ed), Handbook of Qualitative Research, Terj. Dariyatno dkk., Yogyakarta: Pustaka Pelajar, 2009.
Oemar Hamalik, Kurikulum dan Pembelajaran, Jakarta: Bumi Aksara, 1995.
Studi Pendahuluan, Wawancara dengan Syekh H. Mhd. Ihsan Harahap, Mompang, 25 Mei 2014.
Sugiono. Metode Penelitian Kuantitatif, Kualitatif dan R & D, Bandung: Alpabeta, 2008.
Syekh Ahmad al-Alawi, Wali Sufi Abad 20, terj, Abd Hadi Bandung: Mizan, 1989.
Tim Penyusun Pusat Bahasa, Kamus Bahasa Indonesia, Jakarta: Balai Pustaka, 2008.
Toeti Soekamto, dkk, Prinsip Belajar dan Pembelajaran, Jakarta: PPAI Dirjen Dikti-Depdikbud, 1993.
DOI:
https://doi.org/10.24952/tazkir.v1i2.365
Refbacks
There are currently no refbacks.
Copyright (c) 2016 LPPM IAIN Padangsidimpuan
---

This work is licensed under a Creative Commons Attribution-ShareAlike 4.0 International License.
Editorial Office:
Institute for Research and Community Services; State Institute for Islamic Studies Padangsidimpuan.
Jl. T. Rizal Nurdin Km. 4,5 Sihitang 22733 Padangsidimpuan, North Sumatera, Indonesian.
Phone: (+62) 634  22080  Faximili: (+62) 634 24022 e-mail: lp2miain.padangsidimpuan@gmail.com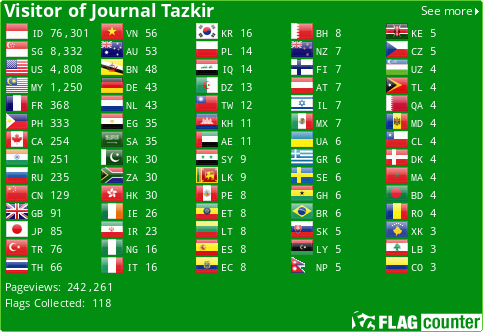 View My Stats