INTERNALISASI NILAI-NILAI TAUHID PADA MATA PELAJARAN SAINS DI SDIT BUNAYYA PADANGSIDIMPUAN
Abstract
Curriculum 2013 for SD / MI Basic Competence organization is done through an integrated approach .  Integration approach  aimed at shaping the character of the character super grateful for all that has been bestowed by Allah to develop their potential to be better . Learning science in SDIT Bunayya a thematic learning , which integrates several subjects are interconnected . With reference to the national education curriculum and the curriculum SDIT itself . Internalization of values Tauhid in science subjects can be seen in the ongoing learning process , where a teacher with a thematic system integrates the values of Tauhid in any material submitted .
References
Asep Herry Hernawan, dkk, Pengembangan Kurikulum dan Pembelajaran, Jakarta: Universitas Terbuka, 2008.
Departemen Pendidikan Nasional, Undang-Undang Pendidikan Nasional No. 20 tahun 2003, Yogyakarta: Pustaka Pelajar, 2005.
Depdikbud, Kompetensi Dasar Sekolah Dasar (SD)/Madrasayah Ibtidaiyah (MI), Jakarta: Kementerian Pendidikan dan Kebudayaan, 2013.
Fadillah Mansor dan Tengku Sarina Aini Tengku Kasim, Pembangunan Modal Insan Dari Perspektif Pengurusan Islam, Kuala Lumpur: University Malaya, 2006.
Kementerian Pendidikan dan Kebudayaan, Materi Pelatihan Guru Implementasi Kurikulum 2013, Jakarta: Badan Pengembangan Sumber Daya Manusia Pendidikan dan Kebudayaan dan Penjaminan Mutu Pendidikan Kementerian Pendidikan dan Kebudayaan, 2013
Imam Robandi, The Ethos of Sakura, Yogyakarta : Andi, 2010.
Lexy J. Moloeng, Metodologi Kualitatif, Bandung: Remaja Rosda Karya, 2004.
Muhammad Qutb, Qabasat min al-RasuL, Makkah: Dar al-Syarqi, 1982.
Nasution, Harun, Pembaharuan dalam Islam, Jakarta: Bulan Bintang, 1996.
Nur Cholis Huda, Rumput TetanggaTidak Lebih Hijau: Mengambil Hikmah dari Setiap Peristiwa, Surabaya: Hikmah Press, 2011.
Sofyan Sauri, "Revitalisasi Pendidikan Sains dalam Pembentukan Karakter Anak Bangsa untuk Menghadapi Tantangan Global"http.www.scribd.com, diakses 20 Mei 2014, pukul 22.30 Wib.
Sugiono, Memahami Penelitian Kualitatif , Bandung: Alfabeta, 2007.
Wahyu, "Kearah Integrasi Sains dan Agama Sebuah Tantangan Kontemporer", di dalam Jurnal Hunava, Vol. 4 No. 1, Maret 2007, hlm.80.
DOI:
https://doi.org/10.24952/tazkir.v1i2.359
Refbacks
There are currently no refbacks.
Copyright (c) 2016 LPPM IAIN Padangsidimpuan
---

This work is licensed under a Creative Commons Attribution-ShareAlike 4.0 International License.
Editorial Office:
Institute for Research and Community Services; State Institute for Islamic Studies Padangsidimpuan.
Jl. T. Rizal Nurdin Km. 4,5 Sihitang 22733 Padangsidimpuan, North Sumatera, Indonesian.
Phone: (+62) 634  22080  Faximili: (+62) 634 24022 e-mail: lp2miain.padangsidimpuan@gmail.com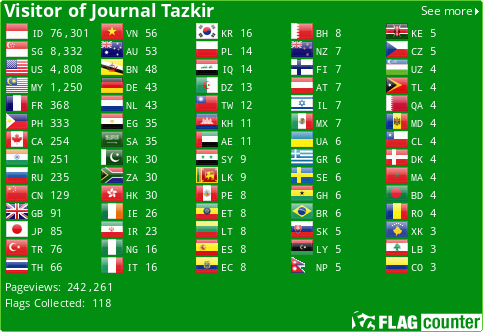 View My Stats