IMPROVING STUDENTS' VOCABULARY MASTERY THROUGH WORD SQUARE MODELING AT GRADE VII SMP NEGERI 5 PADANGSIDIMPUAN
Abstract
Penelitian ini untuk mengetahui peningkatan kemampuan penguasaan kosakata bahasa Inggris siswa dengan menggunakan sebuah teknik pembelajaran yakni Word Square Modelling. Penelitian dilakukan dengan metode penelitian tindakan kelas dengan memilih siswa kelas VII SMP Negeri 5 sebagai subject penelitian. Dua siklus dilakukan dalam penelitian ini dengan mengikuti 4 (empat) proses dalam setiap siklusnya, yakni planning, observing, acting, and reflecting. Tes vocabulary digunakan untuk mengetahui kemampuan penguasaan vocabulary siswa yang dilakukan analiss dengan mencari tahu nilai rata-rata dan persentase nilai yang diperoleh oleh siswa. Hal lain yang dilakukan adalah melakukan observasi dan wawancara untuk menyempurnakan pemerolehan data penelitian. Dari analisis data yang dilakukan diketahui bahwa pesentase nilai penguasaan vocabulary siswa dari siklus satu ke siklus beirkutnya meningkat, yakni dari 76,19% menjadi 78.66. walaupun peningkatan yang terjadi tidak begitu tinggi, namun dapat disimpulkan bahwa penggunakan wodd square modeling untuk mengajari vocabulary mastery sungguh baik digunakan
Keywords
Peningkatan; Kosakata;Word Square Model
References
Arikunto, Suharsimi, Prosedur Penelitian Suatu Pendekatan Praktik. Jakarta:PT Rineka Cipta, 2006.
Allen, Robert, Oxford pocket English dictionary, New York: Oxford University Press,1996.
Brown,Dounglas, Teaching By Principles An Interactive Approach to Language Pedagogy. United Stated Of America: Prentice Hall Regents, 1998.
Brno, "TestngVocabulary"(is.muni.cz/th/152699/pedf_m/Testing_Vocabulary.pdf.
Burridge, Shirley, Oxford Basic English Dictionary. New York: Oxford University Press, 1981.
Dakshina, Jayanti, Contemporary English Grammar, (New Delhi: Book Place, 2003.
Evely, Marcusen, Vocabulary Semantic and Language Education. Cambridge: University Press, 1997.
Frank,Marcella,Modern English A Practical Reference Guide. Ney York: Prentice Hall, 1972.
Harida, Eka Sustri. "Using Mind Mapping Technique to Teach Vocabulary" 3, no. 1 (2015): 10. http://repo.iain-padangsidimpuan.ac.id/176/1/1. Eka -min.pdf.
Harmer, Jeremy, the Practical of English Language Teaching. New York: Longman, 2000.
Hartono, John, Accurate, Brief and Clear English Grammar. Surabaya:Indah, 2009.
Hedge, Tricia, Teaching and Learning in the Language Classroom. United Kingdom: Oxford University Press, 2000.
Hornby, A S,Oxford Advanced Learner's Dictionary of Current English. Oxford University Press, 1995.
Istarani, 58 inovatif Learning modeling. Medan: Media Persada, 2011.
Jackson, Howard, Word, Meaning and Vocabulary. London: Creswell, 2000.
Kunandar, Langkah Mudah Penelitian Tindakan Kelas Sebagai Pengembang Profesi Guru. Jakarta: PT. Raja Grafindo Persada, 2012.
Mallery, Richard, How to Enlarge and Improve your Vocabulary. United state, America: The Blakiston Company, 1947.
Martin, and Wren, High School English Grammar and Composition, ( Jakarta: Persada Rao, 1990.
Martinet, and Thomson, A Practical English Grammar. Hong Kong: Oxford University Press, 1985.
Maya Sari, Nia, The Effect of Using Card Media on Students' Vocabulary Achievement. University: Medan, 2011.
Mccarten, Jeanne, Teaching Vocabulaty, Lesson From the Corpus, Lesson for the Classroom. United State America: Cambridge university Press, 2007.
Mujiman,"TypesWordPuzzle"(http://www.ehow.com/facts_5157113_types wordpuzzles.html.
Nugroho, Satrio, Complete English Grammar, Tata Bahasa Inggris Lengkap. Surabaya:Kartika, 2008.
Nunan, David, Practical English Language Teaching. New York: Mc Gran Hill, 2003.
Profita, Dini Restu, Gunarso Susilohadi, and Teguh Sarosa. "Improving English Vocabulary Mastery by Using Crossword Puzzle." English Education: Jurnal Pendidikan Bahasa Inggris Universitas Sebelas Maret 2, no. 2 (2014). https://www.neliti.com/id/publications/60636/improving-english-vocabulary-mastery-by-using-crossword-puzzle.
Renandya, and Richard, Methodology in Language Teaching and Anthology of Current Practice. USA:Cambridge University Press, 2000.
Retor airasion, and L.R. Gay, Educational Research. New Jersey:Prentice Hall, 2000.
SMP Negeri 5 Padangsidimpuan, Perangkat Pembelajaran Panduan Pengembangan Silabus Pembelajaran. Padangsidimpuan: 2014.
Zuber Skerrit, Ortrun, New Direction in Action Research. London: The Falmer Press, 1996.
DOI:
https://doi.org/10.24952/tazkir.v3i2.1554
Refbacks
There are currently no refbacks.
Copyright (c) 2019 TAZKIR: Jurnal Penelitian Ilmu-ilmu Sosial dan Keislaman
---

This work is licensed under a Creative Commons Attribution-ShareAlike 4.0 International License.
Editorial Office:
Institute for Research and Community Services; State Institute for Islamic Studies Padangsidimpuan.
Jl. T. Rizal Nurdin Km. 4,5 Sihitang 22733 Padangsidimpuan, North Sumatera, Indonesian.
Phone: (+62) 634  22080  Faximili: (+62) 634 24022 e-mail: lp2miain.padangsidimpuan@gmail.com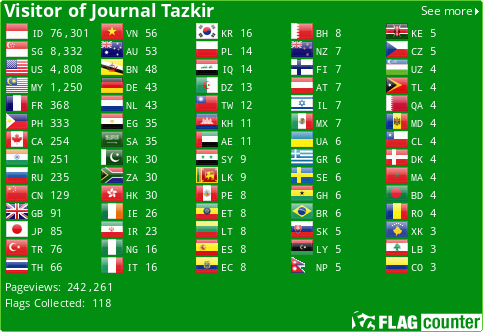 View My Stats