Faktor-Faktor Yang Memengaruhi Intensi Muzakki Dalam Membayar Zakat Di Lembaga
Abstract
This study empirically explores the determined factors of muzakki intention to pay zakat at the zakat institution (BAZ and LAZ). The determined factors of muzakki intention to pay zakat at the zakat institution in the study comprises attitude, subjective norm, and perceive behavioral control. 100 questionnaires were disseminated to the respondents. The data were analysed using a logistic regression. The result of the study showed that perceive behavioral control positively affected the muzakki intention to pay zakat at the zakat institution. This study implies that necessary the role of muslim scholars, government and zakat institution to attrack muzakki to pay zakat in zakat institution.
Keywords
zakat; muzakki; intensi; lembaga
References
Andi Martina Kamaruddin, Zamruddin Hasid dan Isna Yuningsih, Faktor-faktor Yang Mempengaruhi Keputusan Berzakat Profesi Dan Loyalitas Muzakki Terhadap LAZ Rumah Zakat Kota Samarinda, Eksekutif: Jurnal Bisnis dan Manajemen, Volume 12, No. 2, Desember 2015, 284-299.
Asminar, Pengaruh Pemahaman, Transparansi dan Peran Pemerintah Terhadap Motivasi dan Keputusan Membayar Zakat Pada BAZNAS Kota Binjai, At-Tasawuth, Volume III, No. 3, 2017, 260-281.
Azy Athoillah Yazid, Faktor-Faktor Yang Mempengaruhi Minat Muzakki Dalam Menunaikan Zakat di Nurul Hayat Cabang Jember, Economic: Jurnal Ekonomi dan Hukum Islam, Vol 8, No. 2, 2017, 173-198.
Didin Hafidhuddin, Zakat Dalam Perekonomian Modern, (Jakarta: Gema Insani, 2002).
Eri Yanti Nasution, Mohd. Adib Ismail, Hairunnizam Wahid, Faktor Penentu Membayar Zakat di Badan Amil Zakat Nasional (BAZNAS) dalam Kalangan Pembayar Zakat di Kota Medan, Indonesia, Shariah Journal, Vol. 25, No. 1, 2017, 1-22.
Husein Umar, Metode Penelitian Untuk Skripsi Dan Tesis, Edisi Kedua (Jakarta: Rajawali Pers, 2013), 78.
Icek Ajzen, The Theory of Planned Behavior, Organizational Behavior and Human Decision Processes 50, 1991, 179-211.
M. Shabri Abd. Majid, The Motivation of Muzakki to Pay Zakah: Study at The Baitul Maal Aceh, Jurnal Signifikan: Jurnal Ilmu Ekonomi Vol. 6 No.1, April 2017, 159-176.
Muhammad Firdaus, Irfan Syauqi Beik, Toni Irawan dan Bambang Juanda, Economic Estimation and Determination of zakat Potential in Indonesia, IRTI Working Paper Series, WP#1433-07, October 09, 2012.
Nurul Huda dan Abdul Gofur, Analisis Intensi Muzakkî dalam Membayar Zakat Profesi, Al-Iqtishad, Volume IV, No. 2, 2012, 217-240.
Raedah Sapingi, Noormala Ahmad, dan Marziana Mohamad, A Study on Zakah of Employment Income: Factors That Influence Academics Intention to Pay Zakah, 2nd International Conference on Business and Economic Research (2nd ICBER 2011 Proceeding).
Rahmatina Awaliah Kasri, 2014, The Role of Zakah in Poverty Alleviation: Evidence From Indonesia, Doctoral Thesis, Durham University.
Rina Rizkia, Muhammad Arfan, M. Shabri, Pengaruh Faktor Budaya, Motivasi, Regulasi, Dan Pemahaman Tentang Zakat Terhadap Keputusan Muzakki Untuk Membayar Zakat Maal (Studi Para Muzakki Di Kota Sabang), Jurnal Telaah Riset dan Akuntansi, Volume 7, No. 1, Januari 2014, 29-38.
Yusuf Qaradhawi, Spektrum Zakat dalam Membangun Ekonomi Kerakyatan, (Jakrta: Zikrul Hakim, 2005).
Zaenal Arifin, Metode Penelitian Pendekatan, (Surabaya: Lentera Cendelia, 2008).
DOI:
https://doi.org/10.24952/tazkir.v5i1.1331
Refbacks
There are currently no refbacks.
Copyright (c) 2019 TAZKIR: Jurnal Penelitian Ilmu-ilmu Sosial dan Keislaman

This work is licensed under a
Creative Commons Attribution-ShareAlike 4.0 International License
.
---

This work is licensed under a Creative Commons Attribution-ShareAlike 4.0 International License.
Editorial Office:
Institute for Research and Community Services; State Institute for Islamic Studies Padangsidimpuan.
Jl. T. Rizal Nurdin Km. 4,5 Sihitang 22733 Padangsidimpuan, North Sumatera, Indonesian.
Phone: (+62) 634  22080  Faximili: (+62) 634 24022 e-mail: lp2miain.padangsidimpuan@gmail.com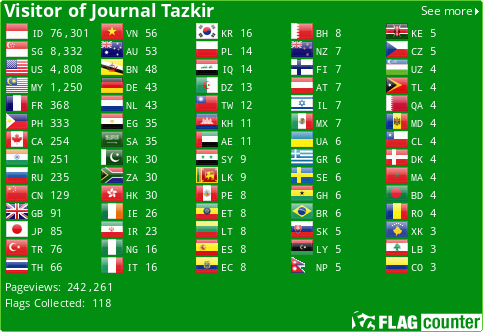 View My Stats