STRATEGI GURU DALAM MEMBENTUK KARAKTER SISWA MI TERPADU MUTIARA KOTA PADANGSIDIMPUAN
Abstract
This research is about teacher's strategues in forming the students' characters at Madrasah Ibtidaiyah Terpadu Mutiara Padangsidimpuan. There is a special character of this school in implementing characterized curriculum based fitrah. It ws done qualitatively by describing the phenomeneon in the field. The teachers' strategies are gpd, and the students can apply the characters in their daily life, in school and at home as an Islamic teaching. The teachers' strategies in forming the students' characters through applying the active partisipatory learning, creating the condusive learning environment, giving eduacted character explisitly, sistematically, and continuosly by involving moral knowing, moral feeling, and moral action aspects
Keywords
Strategies; Teachers; and Forming Character
References
Djamarah, Syaiful Bahri, and Aswan Zain. "Guru Dan Anak Didik Dalam Interaksi Edukatif Suatu Pendekatan Teoritis Psikologis." Jakarta:Rineka Cipta, 2010, 2010. https://doi.org/http://dx.doi.org/10.1016/S0278-6125(98)80001-0.
Husain Thaha, Khairiyah. 1992. Konsep Ibu Teladan. Surabaya: Risalah Gusti.
Masitoh. 2009. Strategi Pembelajaran. Jakarta: Depaq RI.
Mujiono, Dimiyati. 2006. Belajar Dan Pembelajaran. Jakarta: Rineka Cipta.
Rohani, Ahmad. 1991. Pengelolaan Pengajaran. Jakarta: Rineka Cipta.
Samana, A. 1994. Profesionalisme Keguruan. Yogyakarta: Kanisius.
Sanjaya, Wina. 2006. Pembelajaran dalam Implementasi Kurikulum Berbasis Kompetensi. Jakarta: Kencana.
Sudrajat. "Strategi Pembelajaran." Statewide Agricultural Land Use Baseline 2015 1, no. 2008 (2015): 17623470. https://doi.org/DOI: 10.1016/j.epsl.2010.11.015.
Supriadi, Dedi. 2000. Mengangkat Citra dan Martabat Guru. Yogyakarta: Adicita Karya Nusa.
Suryosubroto. 2006. Strategi Pembelajaran. Jakarta: Kencana Prenada Media Group.
Trianto. 2009. Mendesain Model Pembelajaran Inovatif-Progresif . Jakarta: Kencana Presada Media Group
DOI:
https://doi.org/10.24952/tazkir.v4i2.1107
Refbacks
There are currently no refbacks.
Copyright (c) 2019 TAZKIR: Jurnal Penelitian Ilmu-ilmu Sosial dan Keislaman
---

This work is licensed under a Creative Commons Attribution-ShareAlike 4.0 International License.
Editorial Office:
Institute for Research and Community Services; State Institute for Islamic Studies Padangsidimpuan.
Jl. T. Rizal Nurdin Km. 4,5 Sihitang 22733 Padangsidimpuan, North Sumatera, Indonesian.
Phone: (+62) 634  22080  Faximili: (+62) 634 24022 e-mail: lp2miain.padangsidimpuan@gmail.com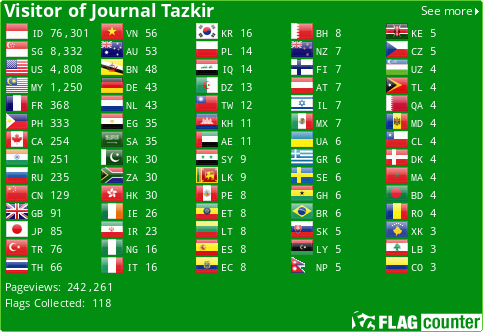 View My Stats