VALIDITAS DAN RELIABILITAS INSTRUMEN KECEMASAN BELAJAR MATEMATIKA PADA SISWA MADRASAH ALIYAH SWASTA
Abstract
This article aimed on finding the validity and realibility of the instrument for the students' anxiety in learning mathematics. The method used in this research was quantitative research in survey type. The population and the sample of this research was 138 students MAS Raudhatun Najah Langsa. Techniques for collecting the data was non-test, in the type of questionnaires that has been analyzed by using Principal Components Analysis (PCA). After analyzed 31 items, 21 items showed the validity and realibilitty. The result showed that KMO-MSA values indicated that all instrument is valid and reliable. It can be used as an instrument for looking the students' anxiety in learning especially in learning math.
Keywords
Validity; Reliability; Students' Anxiety In Learning Mathematics
References
Arikunto, Suharsimi. 2005. Dasar – dasar Evaluasi Pendidikan. Jakarta:Bumi Aksara.
Ekawati, Aminah. 2015. "Pengaruh Kecemasan terhadap Hasil Belajar Matematika Siswa Kelas VII SMPN 13 Banjarmasin", Jurnal Pendidikan Matematika, Vol 1, No.3.
Masruroh, Laili dan M. Dicky Reza. 2015 "Pengaruh Kecemasan Siswa pada Matematika terhadap Hasil Belajar Matematika di SMP", Jurnal Pendidikan Matematika, Vol 3, No.2.
Muljono, Pudji dan H. Djaali. 2008. Pengukuran dalam bidang Pendidikan. Jakarta: PT Gramedia Widiasarana.
Sugiono. 2009. Metode Penelitian Pendidikan, Pendekatan Kuantitatif, Kualitatif dan R&D. Bandung: Alfabeta.
Suherman, Erman dkk. 2003. Pembelajaran Matematika Kontemporer. Bandung: JICA.
DOI:
https://doi.org/10.24952/tazkir.v4i1.1090
Refbacks
There are currently no refbacks.
Copyright (c) 2019 TAZKIR: Jurnal Penelitian Ilmu-ilmu Sosial dan Keislaman
---

This work is licensed under a Creative Commons Attribution-ShareAlike 4.0 International License.
Editorial Office:
Institute for Research and Community Services; State Institute for Islamic Studies Padangsidimpuan.
Jl. T. Rizal Nurdin Km. 4,5 Sihitang 22733 Padangsidimpuan, North Sumatera, Indonesian.
Phone: (+62) 634  22080  Faximili: (+62) 634 24022 e-mail: lp2miain.padangsidimpuan@gmail.com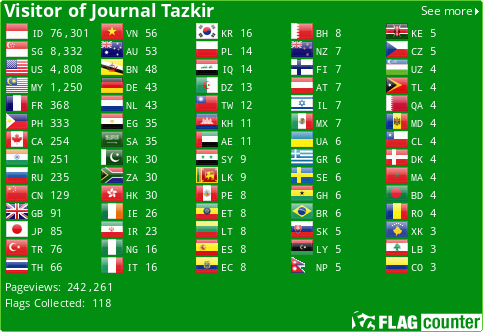 View My Stats