IMPROVING STUDENTS' VOCABULARY MASTERY THROUGH CROSSWORD PUZZLE TECHNIQUE AT SD MUHAMMADIYAH 1 PADANGSIDIMPUAN
Abstract
Penelitian ini membahas tentang cara meningkatkan penguasaan kosakata siswa melalui teka-teki silang di SD Muhammadiyah 1 Padangsidimpuan. Sebagian besar siswa merasa bosan dalam mempelajari kosa kata bahasa Inggris dengan teknik konvensional yang diberikan oleh guru bahasa Inggris kelas VI, yaitu tekhnik buka kamus. Untuk mengatasi masalah tersebut, peneliti melakukan penelitian tindakan kelas, dengan menerapkan teknik teka-teki silang. Peneliti menerapkan empat tes dan dua siklus dalam penelitian ini. Peserta penelitian ini adalah satu kelas terdiri dari 28 siswa. Peneliti menggunakan tes kosakata sebagai instrumen untuk mengumpulkan data, lembar observasi dan wawancara, d an dilakukan analisis secara deskriptif dan menggunakan statistik. Berdasarkan hasil penelitian, menunjukkan bahwa penguasaan kosakata siswa rata-rata skor siswa berada di siklus pertama dua tes; dalam tes pertama adalah 61,42 dan tes kedua adalah 62,14. Kemudian, siklus kedua adalah dua tes; di tes ketiga adalah 84.28 dan tes terakhir adalah 91,78. Oleh karena itu, nilai rata-rata pada siklus kedua lebih tinggi dari siklus pertama. Pada siklus pertama dikategorikan ke dalam kategori cukup dan pada siklus kedua dikategorikan ke dalam kategori sangat baik. Data dari lembar observasi menunjukkan bahwa siswa mendapat peningkatan. Hal ini menunjukkan bahwa penerapan teknik teka-teki silang meningkatkan penguasaan kosakata siswa
Keywords
vocabulary mastery; crossword puzzle; and improve
References
Bachrie , Fauzan. "Skripsi Bahasa Inggris Increasing" (http://fauzan-bachrie. educationalnet.com/2012/11/.html accessed at June 20th, 2012 retrieved on 11 pm
Betteridge, David and Micheal Bucky in Diyan Yulianto. Belajar Bahasa Inggris dengan Ragam Permainan Kata, (Jogjakarta: Diva Press, 2010)
Harida, Eka Sustri. "Using Mind Mapping Technique to Teach Vocabulary" 3, no. 1 (2015): 10.
Harmer, Jeremy. The Practical of English Language Teaching. New York: Longman, 2000.
Haycraft, John. An Introduction to English Language Teaching. Harlow: Longman, 1983. https://books.google.co.id/books?id=XYhOAAAAYAAJ.
Herudin, dan Johnson Simanjuntak. "Implementasi Kurikulum 2013 Bakal Timbulkan Kegagalan Sistemik." Web Blog. Tribunnews.com, 11 Juli 2013. http://www.tribunnews.com/nasional/2013/07/11/implementasi-kurikulum-2013-bakal-timbulkan-kegagalan-sistemik.
Hornby, Albert Sydney. Oxford Advanced Learner's Dictionary of Current English. New York: Oxford University Press, 2000. https://books.google.co.id/books?id=ezFprgEACAAJ.
Huddleston, Rodney, dan Geoffrey K. Pullum. A Student's Introduction to English Grammar. Cambridge: Cambridge University Press, 2007. https://books.google.co.id/books?id=qlxDqB4ldx4C.
Jackson, Howard. Words, Meaning and Vocabulary: An Introduction to Modern English Lexicology. London: Creswell, 2000. https://books.google.co.id/books?id=6AffBAAAQBAJ.
Jones, Kerry. Educational Games English for Teaching, in Journal. Cambridge: Cambridge University Press, 1995.
Lubis, Khoirul Bahri. "The Effect of Using Crossword Puzzle in Reinforcing Activity Toward Students' Vocabulary Mastery at Fifth Grade of Islamic Elementary School (MIN) Pampangan Padang 2011" A Thesis : IAIN Imam Bonjol Padang, 2011
Murthy, Jayanthi Dakshin. Contemporary English Grammar. Delhi: Shivam Printers, 2003.
Sorenson, Sharon. Webster's New World Student Writing Handbook. USA: Wiley Publishing, 2010.
Sudjana, Djudju. Metode dan teknik pembelajaran partisipatif. Bandung: Falah Production, 2005. https://books.google.co.id/books?id=YsAdAAAACAAJ.
Suyanto, Kasihani K.E. English for Young Learners. Jakarta: Bumi Aksara, 2008.
Syarif, Ahmad, dan Fitrawati. "The Use of Half a Crossword Puzzle in Teaching Vocabulary to Elementary School Students." Journal of English Language Teaching 5, no. 1 (2016): 146–52.
Ur, Penny. A Course in Language Teaching: Practice of Theory. New York: Cambridge University Press, 1991.
Utami, Yheni Siwi. "IMPROVING STUDENTS' VOCABULARY MASTERY USING CROSSWORD PUZZLES FOR GRADE VII OF SMP N 2 SRANDAKAN IN THE ACADEMIC YEAR OF 2013/2014." Yogyakarta State University, 2014. https://doi.org/10.1017/CBO9781107415324.004.
Walter, Elizabeth. Cambridge Advanced Learner's Dictionary. 3rd Editions. England: Cambridge University Press, 2008. https://books.google.co.id/books?id=GLI5NwAACAAJ.
DOI:
https://doi.org/10.24952/tazkir.v4i1.1067
Refbacks
There are currently no refbacks.
Copyright (c) 2019 TAZKIR: Jurnal Penelitian Ilmu-ilmu Sosial dan Keislaman
---

This work is licensed under a Creative Commons Attribution-ShareAlike 4.0 International License.
Editorial Office:
Institute for Research and Community Services; State Institute for Islamic Studies Padangsidimpuan.
Jl. T. Rizal Nurdin Km. 4,5 Sihitang 22733 Padangsidimpuan, North Sumatera, Indonesian.
Phone: (+62) 634  22080  Faximili: (+62) 634 24022 e-mail: lp2miain.padangsidimpuan@gmail.com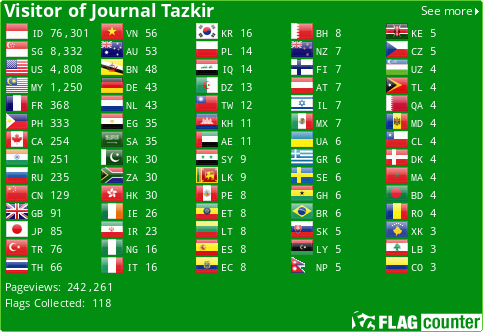 View My Stats