PENGARUH PRODUK DAN PROMOSI TERHADAP KEPUTUSAN MENJADI NASABAH TABUNGAN MARHAMAH PADA PT. BANK SUMUT CABANG SYARIAH PADANGSIDIMPUAN
Abstract
The problem of this research is the number of banking institutions that operate in sharia, creating competition among banking institutions in collecting funds from the community. Evidently, the decision to become a customer of Savings Marhamah at PT. Bank SUMUT of the Sharia Branch of Padangsdimpuan which declines in 2016. Therefore, the bank can offer its products with a better strategy and expand the range and the promotional media. This type of research is descriptive quantitative research. With data source that is primary data. With a population of 8119 customers, with sampling technique using random sampling technique as much as 99 customers. Data collection techniques used are questionnaires and documentation. And tested the validity and reliability. Descriptive test and linearity test. Prerequisite test includes normality test, heteroscedasticity test and multicollinearity test. And multiple linear regression analysis techniques. The results of this study show partially (t test) states that, Product has tcount> ttabel (1.667> 1.660) and significance level <α (0.099 <0.1) means Product significantly influence to Customer's Decision. Promotion has t count> ttable (2.100> 1.660) and significance level <α (0,038 <0,1) means that Promotion has significant effect to Customer's Decision. The result of simultaneous research (F test) states that Product and Promotion have Fcount> Ftable (5.371> 2.36) and significance level obtained (0.006 <0,1) means Product and Promotion simultaneously have a significant effect to Customer's Decision. While R Square equal to 0.216, it means Customer Decision influenced by Product and Promotion equal to 21.6%, while the other 78.4% is explained by other variable not included in this research.
Keywords
Product; Promotion; Customer Decision; and Savings Marhamah
References
Al Arif, M. Nur Rianto. Dasar-Dasar Pemasaran Bank Syariah. Bandung: Alfabeta, 2012.
Alsa, Asmadi. Pendekatan Kuantitatif dan Kualitatif. Yogyakarta: Pustaka Pelajar, 2003.
Anggriawan, Hagi. "Pengaruh Atribut Produk Tabungan Berjangka Terhadap Keputusan Nasabah PT. Himpunan Saudara 1906 Tbk. KC Wastukencana Bandung." Skripsi, Universitas Widyatama, 2012. https://repository.widyatama.ac.id/xmlui/handle/123456789/2590.
Asnawi, Nur, dan Masyhuri. Metodologi Riset Manajemen Pemasaran. Malang: UIN Maliki Press, 2011.
Departemen Agama. Al-Quran dan Terjemahannya. Bandung: PT. Sygma Examedia Arkanleema, 2007.
Fahmi, Irham. Manajemen Strategis Teori dan Aplikasi. Bandung: Alfabeta, 2014.
Fajri, Detha Alfrian, Zainul Arifin, dan Wilopo. "Pengaruh Bauran Pemasaran Jasa terhadap Keputusan Menabung Survei Nasabah Bank Muamalat Cabang Malang." Jurnal Administrasi Bisnis, t.t. https://media.neliti.com/media/publications/77977-ID-pengaruh-bauran-pemasaran-jasa-terhadap.pdf.
Ginting, Nembah F. Hartimbul. Manajemen Pemasaran. Bandung: CV. Yrama Widya, 2011.
Huda, Nurul, dan Mohamad Heykal. Lembaga Keuangan Islam. Jakarta: Kencana, 2010. https://books.google.co.id/books?id=mo9ADwAAQBAJ&printsec=frontcover&dq=Nurul+Huda+dan+Mohamad+Heykal,+Lembaga+Keuangan+Islam&hl=en&sa=X&ved=0ahUKEwiNzuXi3N_fAhXMrY8KHUN6BA0Q6AEIKjAA#v=onepage&q=Nurul%20Huda%20dan%20Mohamad%20Heykal%2C%20Lembaga%20Keuangan%20Islam&f=false.
Kasmir. Manajemen Perbankan. Jakarta: Rajawali, 2008.
———. Pemasaran Bank. Jakarta: Salemba Empat, 2000.
Kotler, Philip, dan Kevin Lane Keller. Manajemen Pemasaran. Jakarta: Salemba Empat, 2000.
Kusmuriyanto, dan S. Martono. "Daya Tarik Bauran Promosi Untuk Produk Tabungan Plus BNI 1946 (Analisis Keputusan Menabung Pada Bank BNI Cabang Semarang)." Dinamika 11, no. 2 (2002): 27–32.
Kustiningsih, Eka Wundi Lilis. "Variabel-Variabel Yang Mempengaruhi Keputusan Menjadi Nasabah Tabungan Faedah Bank BRI Syariah Cabang Samarinda." eJournal Ilmu Administrasi Bisnis 2, no. 2 (2014): 201–14.
Nasution, Suhailah. "Pengaruh Produk dan Promosi terhadap Keputusan Nasabah memiliih Ar-Rahn Pada PT. Pegadaian (Persero) Unit Pelayanan Syariah Sadabuan." Skripsi, Institut Agama Islam Negeri Padangsidimpuan, 2015.
Pebruarini, Uki. "Analisis Faktor Strategi Pemasaran Produk Pembiayaan Terhadap Keputusan Nasabah memilih BMT Sahara Tulungagung." Skripsi, Islam Institut Agama Islam Negeri Tulungagung, 2015. http://repo.iain-tulungagung.ac.id/2273/9/ARTIKEL%20JURNAL_Skripsi%20%28UKI%20P%29.pdf.
Permana, Atanasius Hardian. "Pengaruh Bagi Hasil, Promosi, dan Kualitas Pelayanan Terhadap Keputusan Penggunaan Jasa Perbankan Syariah Tabungan Mudharabah." Skrips, Universitas Negeri Yogyakarta, 2015.
Rangkuti, Ahmad Nizar. Metode Penelitian Pendidikan Pendekatan Kuantitatif, Kualitatif, PTK, dan Penelitian pengembangan. Bandung: Citapustaka Media, 2014.
Supranto, Johannes. Teknik Pengambilan Keputusan. Jakarta: Rineka Cipta, 2009.
Tjiptono, Fandy. Strategi Pemasaran. Yogyakarta: Andi Publisher, 2015.
Umar, Husein. Metode Penelitian untuk Skripsi dan Tesis Bisnis. Jakarta: PT. Raja Grafindo Persada, 2009.
Uyun, Khoirul. "Pengaruh Produk Syariah dan Bauran Promosi Terhadap Keputusan Nasabah Menabung di BNI Cabang Syariah Semarang." Skripsi, Syariah Institut Agama Islam Negeri Walisongo, 2012. eprints.ums.ac.id/30634/12/08_Naskah_Publikasi.pdf.
DOI:
http://dx.doi.org/10.24952/tazkir.v4i1.1060
Refbacks
There are currently no refbacks.
Copyright (c) 2019 TAZKIR: Jurnal Penelitian Ilmu-ilmu Sosial dan Keislaman
---

This work is licensed under a Creative Commons Attribution-ShareAlike 4.0 International License.
Editorial Office:
Institute for Research and Community Services; State Institute for Islamic Studies Padangsidimpuan.
Jl. T. Rizal Nurdin Km. 4,5 Sihitang 22733 Padangsidimpuan, North Sumatera, Indonesian.
Phone: (+62) 634  22080  Faximili: (+62) 634 24022 e-mail: lp2miain.padangsidimpuan@gmail.com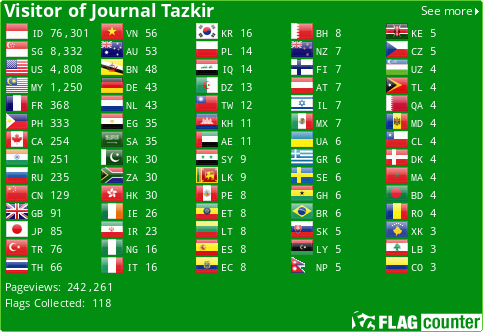 View My Stats