PERAN MEDIA MASSA DALAM REAKTULISASI KEMAJUAN PERADABAN ISLAM (Analisis Wacana Terhadap Rubrik Mimbar Jum'at di Surat Kabar Harian Waspada)
Abstract
Abstract
Newspapers as general media information play a role in process of re-actualizethe advanced of Islamic civilization. History of Muslim's glory several centuries ago which almost destroyed, now being exhumed and become the actual information in the newspaper. The efforts were made by newspaper was examined by using some theory as follows: agenda setting, discourse analysis and semiotics that also hasfunction as research method. The results of this study indicate that the Islamic civilization is very advanced in science, architecture, food processing technology, medical, state managementand others. Even, some results of Muslim scientistresearch and thought became references for Western scientists in developing studies in various fields. Therefore, efforts to re-actualize the advanced of Islamic civilization are indispensable as a motivation to raise awareness of Muslims that we are intelligent and proggressifpeople .
Kata kunci: Surat kabar, reaktualisasi, kemajuan peradaban Islam.
References
DAFTAR PUSTAKA
Danesi, Marcel, Pengantar Memahami Semiotika Media, Terjemahan: A. Gunawan Admiranto, Yogyakarta: Jalasutra,2010.
Eriyanto, AnalisisWacana: Pengantar Analisis Teks Media, Yogyakarta: LKis,2008.
Herman Soewardi, Roda Berputar Dunia Bergulir: Kognisi Baru tentang Timbul Tenggelamnya Sivilisasi, Bandung: Bakti Mandiri, 2004.
Ibnu Hamad, Konstruksi Realitas Politik dalam Media Massa: Sebuah Studi Critical Discouse terhadap Berita-berita Politik, Jakarta: Granit,2004.
Jorgensen, Marianne dan Louise J. Phillips,AnalisisWacana: TeoridanMetode, diterjemahkan oleh Imam Suyitno, dkk.,Yokyakarta: PustakaPelajar, 2007.
Mehdi Nakosteen, Kontribusi Islam atas Dunia Intelektual Barat: Deskripsi Analisis Abad Keemasan Islam,Surabaya: Risalah Gusti, 1996.
Mohammad Said,Mengenal Berdirinya "Waspada", Medan: Harian Waspada, Tt.
Muhammad, TWH, Sejarah Perjuangan Pers Sumatera Utara, Medan: Yayasan Pelestarian Fakta Perjuangan Kemerdekaan Republik Indonesia, Tt.
Mulyadhi Karta Negara, Reaktualisasi Tradisi Ilmiah Islam,Jakarta: Baitul Ihsan, 2006.
Severin, Werner J. dan James W. Tankard, Jr. TeoriKomunikasi Massa: Sejarah, Metode, danTerapandalam Media Massa. EdisiKelima,diterjemahkan olehSugengHariyanto, Jakarta: Kencana, 2005.
Stephen WLittlejohndan Karen A. Foss,Theories of Human Communication. Eighth Edition, Australia. Canada. Singapore. Spain. United Kingdom. United States: Wadsworth,2005.
VanZoest, Aart Semiotika; Tentang Tanda, Cara Kerjanya, dan Apa yang Kita Lakukan, diterjemahkan oleh Eni Soekawati, Jakarta: Yayasan Sumber Agung.1993.
DOI:
https://doi.org/10.24952/tazkir.v9i2.102
Refbacks
There are currently no refbacks.
Copyright (c) 2015 TAZKIR
---

This work is licensed under a Creative Commons Attribution-ShareAlike 4.0 International License.
Editorial Office:
Institute for Research and Community Services; State Institute for Islamic Studies Padangsidimpuan.
Jl. T. Rizal Nurdin Km. 4,5 Sihitang 22733 Padangsidimpuan, North Sumatera, Indonesian.
Phone: (+62) 634  22080  Faximili: (+62) 634 24022 e-mail: lp2miain.padangsidimpuan@gmail.com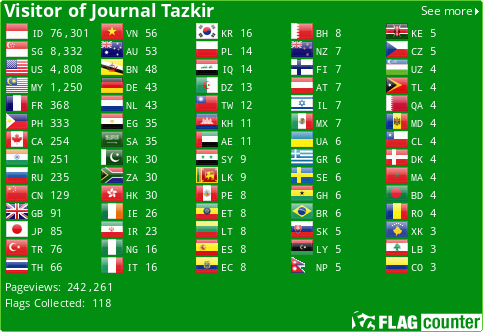 View My Stats